'True Blood' Comic-Con Panel Is a Lot of Stripping and Sex Talk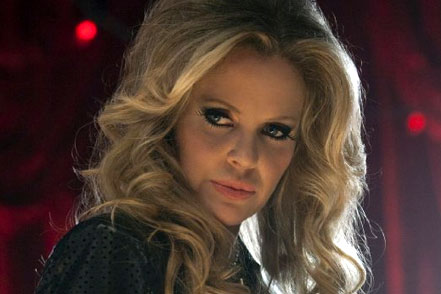 On Saturday evening fans packed into Ballroom 20 at SDCC to get a taste of the stars of True Blood. The room, which was already stocked with bloodthirsty vamp-lovers from the recently concluded Vampire Diaries panel, exploded when producer Alan Ball took the stage.
We begin with a trailer of things to come in Season 5: Sookie wishing to be human, Russell returning and feasting on the living, Christopher Meloni rocking a blue Polo. You can watch it all below:
But the most exciting part of the panel wasn't a piece of footage at all — it was series star Joe Mangianello channeling his Magic Mike character and pulling out a few stripper moves for the audience.
Soon after the entire starring cast, including one very pregnant Anna Paquin stepped onto the stage, the topic turned to what moderator Tim Stack called, "The season of the bromance," citing the relationship of characters Bill (Stephen Moyer) and Eric (Alexander Skarsgard). That's when things started to get interesting. At first, the audience was treated to some innocent flirting between stars Moyer and Skarsgard, with Moyer praising his colleague on his cuddling abilities (accrediting them to his long arms). But after this the, um, temperature of the stage took a sharp rise.
Provoked by a question from Stack regarding Tara's (Rutina Wesley) turn as a stripper, Mangianello stood up and treated the entire room to some very provocative choreography. But Alcide Herveaux wasn't the only one to get in the Magic Mike spirit: Wesley herself, and True Blood creator Alan Ball, joined in with their own stripper moves. Ball even earned a dollar from satisfied customer Mangianello.
And that's not all: this prompted series newcomer Meloni to get in the game, throwing out a few body rolls into the mix. All of the R-rated activity reminded the SVU vet of his old gig: "Trying to figure out what's a sex crime on this show is very different."
Although the conversation took a few innocent turns — with Ball announcing that Season 5 will reveal unanswered questions about the Stackhouse parents and how their fate affected their children, as well as the future of Rutina's character and how Pam (Kristein Bauer de Straten) will become something of a hero to her — things quickly veered back to sex.
Ball admitted that there were, in fact, going to be more sex scenes in Season 5. Said Mangianello, "I sexually eviscerate another cast member in one of the episodes coming up," leading Skarsgard to joke that he is the cast member in question.
And when you're talking about sex, the mind of the contemporary bibliophile would naturally be led to Fifty Shades of Grey. Skarsgard, as fans likely know, has been rumored to be the lead of choice in the developing Fifty Shades film adaptation. The True Blood star said, "I've got to read that book. I haven't read the book, I haven't seen the script…"
And without missing a beat, costar Moyer added, "He's just lived the life."
Considering the dark and dirty deeds he's done on True Blood, Skarsgard isn't too concerned with handling the comparatively lighter role of Christian Grey: "All I heard was he's got a chamber in his basement," Skarsgard said. "My sweet daughter and I share a saw room where we have sex with people."
After all this provocative dancing and talk of sex, the panel closed in the most wholesome and traditional way possible: Ryan Kwanten doing a handstand. That's True Blood for you.
More:
Comic-Con 2012: 'The Vampire Diaries' Panel: Best Bites
Comic-Con 2012: 'Breaking Bad' in German Subtitles and "Magnets, B***h!" — VIDEO
Comic-Con 2012: 'Once Upon a Time' New Season 2 Details Have Fans Hook-ed