Should We Be Rooting for Marty and Rust on 'True Detective'?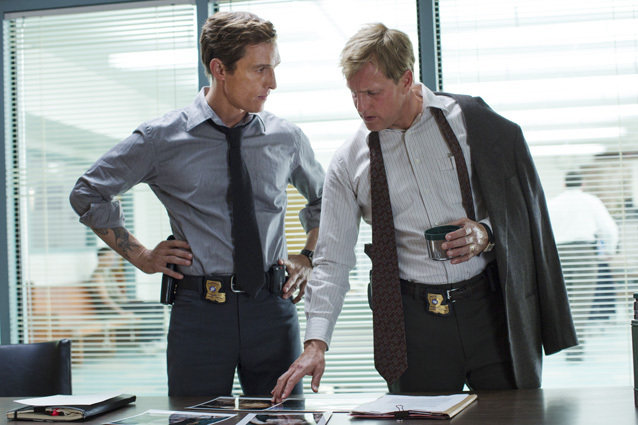 HBO
HBO's True Detective has really livened up since the methodical first few episodes. We've seen shootouts, blow-ups, and morally questionable decisions made by Rust Cohle (Matthew McConaughey) and Martin Hart (Woody Harrelson). Cops who don't play by the rules are common in police dramas, but these two have really changed the playing field. Their behavior leads us to ask, should we even be rooting for these guys?
Cohle and Hart's pursuit of their twisted serial killer has amounted in many leads and even more dead ends. So they have done what's necessary to catch the bad guy. But some of their methods (not to mention their means of "unwinding") shouldn't be part of the job.
Let's start with Hart. He had been the cop who had played everything straight until he shot an unarmed Reggie Ledoux in the head. Off the job, however, he cheats on his wife with the large-chested Lisa (Alexandra Daddario), who can't see other men because Hart won't allow it. What kind of double standard is this? Then Hart had the stones to get upset that his mistress told his wife about their affair. Is this what a hero does?
Cohle was just weird at first but graduated to certified outlaw with his "undercover" operation that nobody except he and Hart knew about. Breaking and entering, armed robbery and kidnapping are just some of the charges that could have been brought against Cohle. As illegal as this was, it gave us an incredibly insane six minutes of chaos (NSFW). How did a murder investigation turn into a war zone? A little bend of the rules is acceptable for cops, but this crossed the line.
These guys are True Detective's main characters, however, they have evolved into anti-heroes. There's no turning back from their transgressions. Can they redeem themselves? Or will they get theirs in the end the way all villains do?