10 TV Episode Titles That Could Be Used As Life Advice
TV show episode titles usually go over our head when tuning into a favorite series. However, they're often pretty clever and can even be use as logical and trustworthy life advice. Here are a few episode titles that are great words to use as a day-to-day motto.
1. "Do Not Sleep With Your Autistic Nephew's Therapist"
Parenthood aptly advises against this recipe for disaster.
2. "Children Shouldn't Play With Dead Things"
Supernatural warns us of the obvious yet important rule that nothing good will ever come of that.
3. "Nothing Good Happens After 2A.M."
After drinking that extra glass of wine, one might take How I Met Your Mother's advice of staying home at this hour of day.

4. "Winter Is Coming"
It's particularly wise to follow Game of Thrones' words of wisdom come autumn. Take out those scarves and mittens because it's winter!

5. "Clean Out Your Junk Drawer"
Modern Family reminds us that really…we need to clean out that junk drawer.
6. "Nobody Said It Was Going To Be Easy"
In the angsty moments of life, Nashville (also Coldplay) reminds us of this little fact.

7. "Hugs Can Be Deceiving"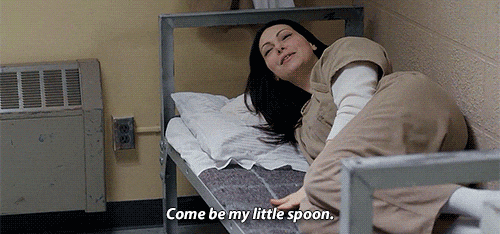 Though this might sound a little paranoid, Orange Is The New Black totally knows what's up with hugs.

8. "Don't Give A Monkey A Gun"
Clearly, Two And A Half Men.
9. "Three's A Crowd"
When it comes to that romantic dinner date that you've been planning for months and your friend decides to tag along, Sex & The City speaks volumes.
10. "Weirdos Need Girlfriends Too"
We can't deny Girls' wise words of about the weirdos. Preach, Lena Dunham!