TV Network Swap: What If 'Dexter' Were on VH1?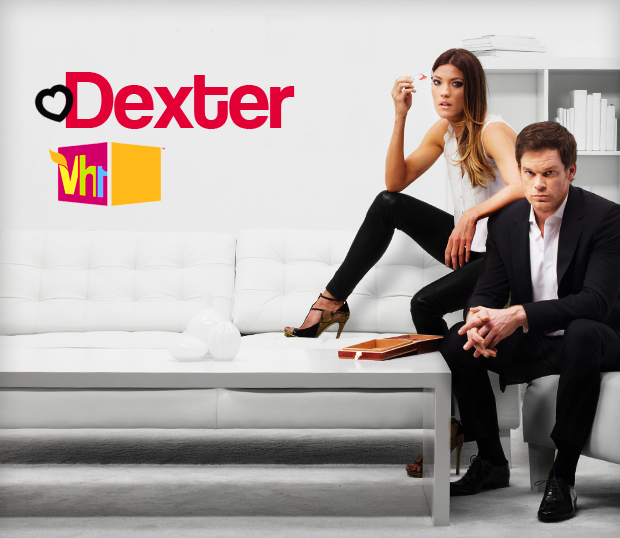 Our favorite shows feel perfect for their respective networks: The nude-friendly Game of Thrones is a tried-and-true HBO series, the tortoise-slow Mad Men fits AMC's intelligent and patient viewers, and The Big Bang Theory never met a laugh track CBS didn't like. But what if those series appeared on different networks? How would the show change? We're exploring just that in our Network Swap series. Next up: What if Dexter aired on Vh1?
Series
: Dexter
Network: VH1
TV Rating: TV-CTB. As in, make sure you are Close To Bathroom. Now that Dexter is a reality show, the decapitations and graphic blood splatters are going have a nice, disturbing, disgusting Discovery Channel feel. Shark Week has nuthin' on this.
Logline: A new reality series focusing on the Miami Metro homicide unit… and Dexter Morgan (Michael C. Hall) and Debra Morgan's (Jennifer Carpenter) newly complicated relationship. Dexter is no longer just America's most loved serial killer — he's a serial dater as well. Debra, meanwhile, is the hopeless, lovestruck drama queen who aims to turn the homicide unit against her adoptive brother after he spurns her advances. (Yes, adoptive brother. What's a reality show without an uncomfortable romance?) Who will side with Dexter and Deb in this reality war?
Demographic: Women and Men 18+ who inexplicably find themselves marathoning Mob Wives and Basketball Wives on lazy Saturdays.
Pilot Plot: Deb creates a fake dating profile for Dexter on eHarmony to get revenge on him for denying her love. Too bad there already is a profile for Dexter — which he actually created to find hot dates and lure in his victims.
Breakout Star: The sassy Masuka (C.S. Lee), of course.
Soundbite: "Dexter is Miami's most well-endowed serial killer," Masuka says in a sexy, yet creepy voice over. "Can I get myself a bite of that?"
Sweeps Twist: Deb has a secret of her own: She was married to a Mob serial killer briefly before he ratted out his entire maffioso family, and he was sent to prison to serve two life sentences back-to-back. Oh and, Sgt. Angel Batista (David Zayas) is openly gay and dating Masuka.
Reason People Watch: Because the blood and drama in Mob Wives and Basketball Wives just wasn't enough.
What the Critics Say: "This is how you mix drama and blood, True Blood." "Dexter — a real show that kills it." "Can I put my DVR out of its misery?"
Spin-Off Possibilities: Deb Morgan stars on The Bachelorette: On the Wings of a Serial Killer. Maria LaGuerta (Lauren Vélez) partners up with Big Ang to fight crime in NYC. And Joey Quinn (Desmond Harrington) nabs a starring role in Magic Mike 2.
Follow Lindsey on Twitter @LDiMat.
More:
TV Network Swap: What if 'Louie' Were on The CW?
Network Swap: What if 'Game of Thrones' Were On MTV?
TV Network Swap: What If 'Parks and Recreation' Were on CNN?
From Our Partners:

Blake Lively Talks Life with Ryan Reynolds in 'Allure': "I've Never Been Happier" — PHOTOS
(Celebuzz)

(Celebuzz)