TV Tidbits: 'New Girl', 'Mindy Project' Finales Get Pushed Back, Justin Timberlake Headed to The CW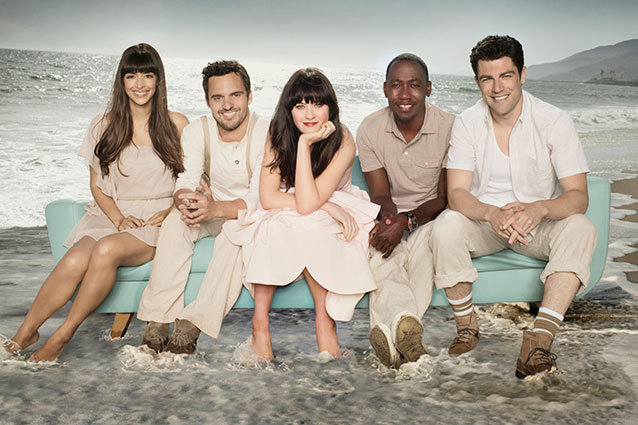 More Time For Loft Parties: Looks like New Girl will be sticking around a bit longer — Fox has announced new finale dates for New Girl, The Mindy Project, Touch, and Kitchen Nightmares. The first two will say goodbye (for now) on May 14, the latter on May 10. Touch is still waiting for a renewal, but we wouldn't bet on it.
JT on The CW: The CW will air a new one-hour special, Target Presents the IHeartRadio Album Release Party with Justin Timberlake, featuring performances and interviews with the musical superstar, as well as an exclusive eight-minute world premiere of Timberlake's new music video. The special will air on Tuesday, March 19, at 8 PM ET/PT with an encore of the airing on Friday, March 22 at 8 PM ET/PT. [The CW]
Abbie Cornish Would do Anything For Klondike: Limitless and Sucker Punch star Abbie Cornish has officially joined Discovery's first scripted mini-series, Klondike. Unfortunately for stoners, it's not about the delicious ice cream treat. Instead, Klondike will follow "the lives of two childhood best friends, Bill and Epstein, in the late 1890s as they undertake the next, gold rush capital in the untamed Yukon Territory. This man-versus-nature tale places our heroes in a land full of undiscovered wealth, but ravaged by harsh conditions, unpredictable weather and desperate, dangerous characters including greedy businessmen, seductive courtesans and native tribes witnessing the destruction of their people and land by opportunistic entrepreneurs." Cornish will play the female lead, Belinda.
Mandy Moore Replaced by 30 Rock Staple: In today's… interesting… casting news, 30 Rock alum Kristen Schaal has replaced Mandy Moore as Louise in ABC's pilot adaptation of the BBC comedy Pulling. She'll join Jenny Slate and June Diane Raphael as dysfunctional women dating in their 30's. It's not strange at all that Schaal, a respected and well-known comedienne, is joining these other two respected and well-known comediennes — it's strange that Mandy Moore was going to be there in the first place. Guess she'll have to find another walk to remember… [Deadline]
New Girl's Old Fling: Teen Wolf star Dylan O'Brien is set to guest star on an upcoming episode of New Girl. A flashback episode airing in late April will feature the stories of how each of the New Girl gang lost their virginity. In that episode, O'Brien will play Jess's prom date, a gorgeous, romantic, guitar-playing 18-year-old who promises a memorable "first time" for Jess, who wants to lose her virginity to someone special. [TV Guide]
Spader Lands Thrilling Role: James Spader just landed a role in the NBC thriller pilot The Blacklist.  He will play Raymond "Red" Reddington, a former Army intelligence officer-turned-wanted criminal who turns himself in with the intention of giving up all his fellow accomplices. The catch? He wants to work with rookie FBI agent Liz Keen (Megan Boone), a woman with whom he seemingly has no connection. Red is said to reject the "spy" label, instead preferring to be thought of as a broker who arranges deals for criminals — for a price. [EW]
Follow Shaunna on Twitter @HWShaunna
---
You Might Also Like:


8 Male Stars With Tramp Stamps


Stars Who Have Lost Roles For Being Too Hot (Celebuzz)