TV's Seven Craziest 'WTF' Moments of 2012 … So Far
On Sunday night, the TV-viewing public — or at least a relatively small, geeky-ish fraction thereof — let out a collective gasp when Melisandre (spoiler alert!) gave birth to Lost's smoke monster on HBO's Game of Thrones. We're still in a little bit of a head-scratching haze over the development, which got us wondering about 2012's TV moments that've rocked our world, because even though the year is not even yet six months old, there have been WTF?! moments aplenty. Here are our top seven picks!
Game of Thrones: Smoke Baby (Duh!)

[Photo: HBO]
This show is known for pushing every conceivable boundary, but it took an interesting turn when new character Melisandre gave birth to a smoky demon while Davos Seaworth, and viewers, looked on in horror. She stripped down to her birthday suit in a wet, gloomy cave, revealing a very pregnant belly that wasn't there last week. Whatever was in there began making its way out violently, resulting in a horrifying birthing scene that consisted of a reincarnation of Lost's smoke monster grabbing her calves and pulling its way out. Then, it disappeared into the night while Melisandre smiled. She's weird! -Shaunna Murphy
Next: Don Draper did what? Mad Men: Don's Fever Dream

[Photo: AMC]
Don's murderous fever dream was shocking. Even though we knew it was a dream Don clearly has some terrible stuff creeping up on his subconscious. Things aren't going to end well with him and Megan, but this dream may have been a sign of how bad it could get. -Aly Semigran
We all sighed when we thought Don Draper had broken his vows to new wife Megan when he pounced on an old girlfriend while home sick. But then, following their regrettable romp, we all gasped watching Don pounce on her again… and strangle her to death. Of course, we know there was something as suspect as Pete Campbell about the moment — we are way too far away from Mad Men's finale for the murder to be real. Though it turned out to be a fever-inducing hallucination, realizing that the character is capable of killing — even only in his dreams — was a shocking setback for the new Don. -Kate Ward
Next: The Parks and Rec relationship heard 'round the world.Parks and Recreation: Anne + Tom Sittin' in a Tree

[Photo: NBC]
Ann is actually dating Tom. For real. And she didn't even pass his "Oh-no-no" test. How can Tommy Fresh have a boo-bear who doesn't even know who Ginuwine is? GINUWINE! Until this relationship hits a wall, I will perpetually be found making Ron Swanson's hernia face. -Kelsea Stahler
Next: Idol voters' temporary insanity. 
American Idol: Jessica Sanchez (Almost) Gets the Boot

[Photo: Fox]
Jessica Sanchez receiving the lowest number of votes, while Hollie Cavanagh sat comfortably on the safe couch. How voters allowed the best singer this show has seen in years feel the sting of elimination (before the judges rightfully saved her talented tushie) while Hollie, the unpolished-pixie-wonder, enjoys waves of votes is absolutely inconceivable. Are they not watching the show? Do they not notice how deathly silent CBS studios gets every time the judges slam Hollie's performances? -Kelsea Stahler
Next: Ru-Paul's Drag Race gets slimy.RuPaul's Drag Race: Vomit-gate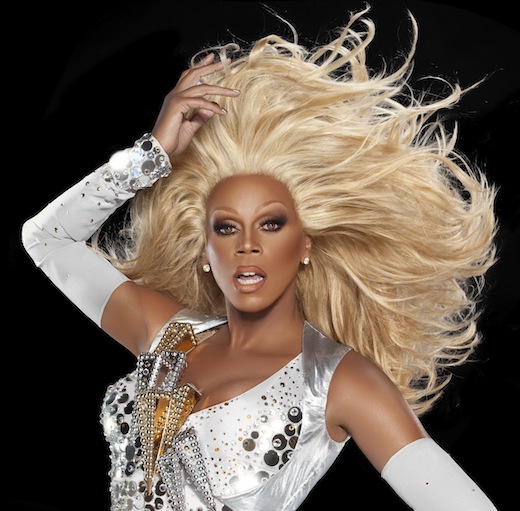 [Photo: Logo]
The action on this campy reality show is usually straight forward: the queens put on their dresses, lip sync for their lives, and one of them is sent home. On one episode this season, things didn't go according to plan. Willam, one of the favorites in the race, was safe from elimination when he just started barfing all over his platform pumps. After two other contestants were up for being voted out, Ru called Willam back on stage and told him he had broken the rules and to pack his bags. He wiped the vom off his lips and sashayed off the show, without any further explanation given. Seriously, everyone, WTF to all of that! -Brian Moylan
Next: The Bachelor gets schooled.The Bachelor: That Awkward "Kissing Lesson"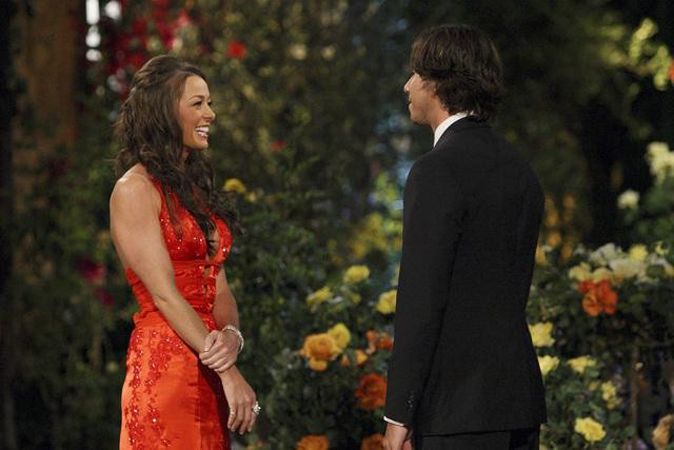 [Photo: ABC]
On dating shows like this you're always going to encounter a few (many) awkward moments. But Jamie Otis took things to a whole new level when she decided to straddle Bachelor Ben Flajnik (in a very short dress, might I add) and instruct him on how to kiss properly. No man at any age wants to be told that he's not kissing the right way! Any chance of this girl winning Ben's heart went out the window at this precise moment. It was all kinds of awkward times ten. -Kelly Schremph
Next: Old Favorites on the 'Town.The Scrubs Cast on Cougar Town

[Photo: ABC]
As a Scrubs fan from the early indie-dramedy style days right down to the cartoon-esque finale season, it couldn't have been more of a thrill than it was to see Cougar Town accumulate five surprise Scrubs alums for the purposes of a 30-second joke at the very end of its Season 3 episode "A One Story Town." As Sam Lloyd (Scrubs' Ted) begins to freak out that everyone around him resembles people from his old job at a hospital, the jokes become more and more absurd, climaxing with Zach Braff showing up as a pizza boy and Rob Maschio (The Todd) requesting a high five. It was nuts, and incredibly fun. Oh, and yes, I watch Cougar Town. -Michael Arbeiter