TV Tidbits: 'Fringe' Gets a Finale Date, Gloria on 'Modern Family' Gets a Mother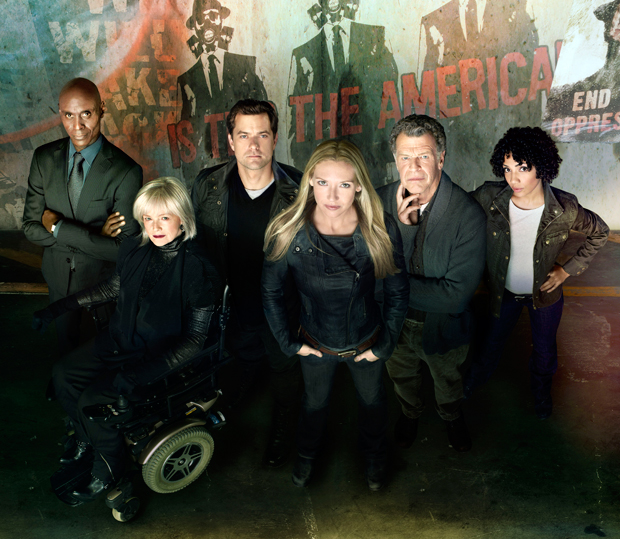 The geeks may not inherit the earth, but they sure are inheriting TV Tidbits tonight. We've got some major news about the final season of Fringe and a new, sure to be highly referential, Diablo Cody comedy pilot.
Oh, just thinking about Fringe makes me wish I could teleport into a drier, parallel-universe New York, in which Hurricane Sandy had never hit. It'd even be worth braving the inevitable dystopia and eerie doppelgängers.
Fringe's Series Finale Date Set Fans of the J.J. Abrams-created brain-scrambler won't have to wait until 2036 to find out how it all ends. Fox has scheduled the two-hour series finale for January 18, 2013. That's when we'll probably see the final showdown between the Fringe team and the "Observers" who rule over a dystopian earth 25 years in the future. The first hour of the finale will also mark a milestone for the cult fave: its 100th episode! Abrams said in a statement, "It has been an absolute honor to have been a part of the weird and wonderful world of Fringe. I will always owe the cast and crew for pouring their hearts and souls into every dimension of this series. Creating the show with Bob Orci and Alex Kurtzman was a joy, but watching it evolve over the years into such an imaginative, insane and heartbreaking ride is nothing less than a thrill. I am grateful to our blessed fans, and to Kevin Reilly and Peter Rice and everyone at the glorious Fox network for allowing Fringe to reach its bittersweet conclusion." [FOX]
Diablo Cody Sells Comedy Pilot Script to ABC The Oscar-winning Juno scribe just sold a pilot script for a comedy series called Alex + Amy to ABC. Produced by Warner Bros. Television and Amblin Entertainment, the show is described in its official logline as "A comedy about a romance between an ambitious 22-year-old Millennial guy and a 32-year-old Gen X woman who have just moved in together and are very much in love." The deal comes with a penalty if ABC chooses not to proceed with a pilot, so this is likely one doodle that can't be undid, home skillet. [EW]
Elizabeth Peña to play Gloria's Mother on Modern Family The Emmy-bait comedy is staging a veritable family reunion for Sofia Vergara's Gloria. In the 12th episode of the season, set to shoot on Monday, Peña (La Bamba) will play Gloria's mother, Pilar, alongside Stephanie Beatriz (The Closer) as Gloria's sister, Sonia.  [EW]
Greg Louganis to Judge ABC's Celebrity Diving Series When ABC first announced that it would air a competition series pitting "stars" against one another in trying to pull off the perfect somersault or flip off a 3-10 meter diving board, it seemed like one of the sillier reality TV concepts since Fox's short-lived 2006 series Skating With Celebrities. What's next? Will C-Listers be tackling lesser Olympic sports, like curling or luge, for our amusement? But The Alphabet seems committed to lending their new competition a little professionalism by hiring five-time Olympic medalist and all-around diving legend Greg Louganis to host. Still, this just seems like another milestone on the long road to Ski, Shoot, Sing, the combination biathlon/singing competition predicted by Community earlier this year. [Hollywood Reporter]
True Blood alum to guest star on Nashville Shreveport's werewolf packleader Marcus Bozeman is leaving Louisiana for Tennessee. Hirsute actor Daniel Buran is boarding ABC's freshman drama Nashville in a recurring role as Cy, the frontman of a Bon Jovi-esque rock bank looking for a new guitarist. [Hollywood Reporter] 
Breaking Bad's RJ Mitte coming to Vegas Following in the footsteps of Bad's Jonathan Banks, the erstwhile Walt Jr.–I'm sorry, Flynn–will be guest starring in an episode of Nicholas Pileggi's Sin City procedural later this year as the younger brother of Nathan, who follows his sibling into a life of crime. [Hollywood Reporter]
[Photo Credit: Fox]
More:
TV Tidbits: Brendan Fraser Exits TNT Pilot, 'Fairly Legal' is Legally Cancelled
TV Tidbits: 'Gossip Girl' Gets a Finale, 'Common Law' Gets the Ax
TV Tidbits: A 'Glee' Kid Changes Zip Codes, Chloe Sevigny Heads to A&E
TV Tidbits: Olivia Munn's Stripper Fight, Bradley Whitford Marries a 'Trophy Wife'

Country Music Association Awards 2012: See the Best-Dressed Stars of the Night (PHOTOS)
(Celebuzz)