TV Tidbits: 'Sons' Vet Moves On, Bette Midler Goes 'Glee'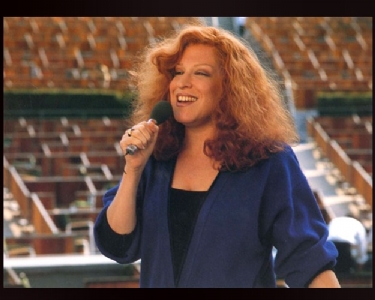 Today was another big day for TV, as The X Factor FINALLY announced that Khloe Kardashian and Mario Lopez would take over my beloved Steve Jones' role as hosts for the rapidly approaching live shows this season. X Factor's was certainly today's glitziest announcement, but there were plenty of other notable TV tidbits that took over this fine Tuesday:
Opie Lives On: After his tragic, untimely death on Sons of Anarchy, Ryan Hurst will be taking his talents to TNT's upcoming drama pilot, King & Maxwell. The show will follow private eyes Sean King and Michelle Maxwell, who are both former secret service agents. Hurst will take on the role of Edgar, a suspected serial killer-slash-autistic savant with "an extraordinary ability to see patterns and numerical sequences." He'll form a special relationship with King that leads to a breakthrough in their case. [Deadline]
Glee Nabs Another Starlet: Who needs sites like this when you have Ryan Murphy's Twitter? The multi-talented showrunner told Twitter today that during last night's God's Love We Deliver Golden Heart Awards, he had asked Hollywood legend Bette Midler to guest on Glee:
I just asked the incredible Bette Midler to be on Glee in front of 1,000 people. I hope she says yes!
— Ryan Murphy (@MrRPMurphy) October 16, 2012It would appear that Midler is a fan of the show, since she later replied with a role suggestion:
Ok, @rpmurphy, I have one vote for Rachel's grandmother…hmmmm.I'm thinking, I'm thinking!!
— Bette Midler (@BetteMidler) October 16, 2012Broadway crooner Idina Menzel has already appeared as Rachel's biological mother, so we think that Bette Midler as granny would be pretty believable.
More Burgers For All: Congrats (and milkshakes) are in order for the folks at Bob's Burgers, as Fox has officially granted the animated comedy a 22-episode fourth-season order. Sandwiched between Simpsons and Family Guy, Burgers has seen the greatest year-to-year growth of any returning broadcast series in the male demographic, according to Fox. [Deadline]
Gordon Ramsay Gets Another Show: He's everywhere! Reality chef megastar Gordon Ramsay will team up with Ted producer Scott Stuber for The Inferno, an NBC drama project set in a restaurant. In a situation you would see on Ramsay's Fox hit Hell's Kitchen, the show will focus on two restaurants that are on the brink of bankruptcy, until a mysterious Italian chef comes in and saves the day. The only problem is, anything that seems too good to be true probably is — the restaurants will become hits, but at a "terrible cost." Ramsay will contribute with stories from his own vast array of experiences. [Deadline]
Another Olympian Heads to the Small Screen:
With McKayla Maroney on Hart of Dixie and Gabby Douglas on The Vampire Diaries, someone had to show some love to the swimmers. Today, Pretty Little Liars showed that love by nabbing Missy Franklin, who will play herself, for a guest spot. In the episode, Emily (Shay Mitchell), who is a swimmer, will have coffee with the gold medalist. Hopefully, it'll be a better conversation than the one she'd have with Ryan Lochte. [EW]
Follow Shaunna on Twitter @HWShaunna
MORE:
TV Tidbits: Dave Navarro Joins 'Sons of Anarchy' While Rachel Zoe Gets a New Project
TV Tidbits: Tyra Banks's Teen Years, a 'Gossip Girl' Villian Returns
TV Tidbits: Matt Bomer is 'The New Normal', Bonnie & Clyde Get a Modern TV Makeover