TV Tidbits: 'The League' Gets a New Season, 'So You Think You Can Dance' Will Shimmy Again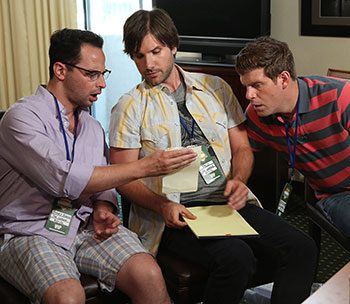 The Santa giveth, and the Santa taketh away — but today he mostly giveth, as several shows received very good news — like, "we all still have jobs next year" good news. What else did the jolly round fat man pull from his bag? Let's take a peek…
The League Totally Scores: It's a very happy day for the fellas (and the lady) over at The League — FX announced via release that the raunchy, laugh-out-loud comedy would come back with a fifth season. The show will be back next fall with a 13-episode order, and it will also air it's fourth season finale on Thursday. Bud Light, anyone?
Psych Breaks a Record: Congrats to the two kookiest detectives in town: Psych has been renewed for an 8th season, making it USA's longest-running show. The seventh season — which hasn't even started yet — will feature the show's 100th episode, as well as a musical. [Hollywood Reporter]
You STILL Think You Can Dance?: Well, I certainly can't, but Fox officially picked up So You Think You Can Dance for a whopping tenth season, so there has to be some hidden talent they haven't discovered yet. [Deadline]
Pawnee's Greatest Resident Has a Sibling: Jean-Ralphio has a twin sister and this news is great, it's even better when you discover she's Jenny Slate… face. Oh well, I tried. Well, Slate will guest star in at least one episode as Mona Lisa, our beloved Jean-Ralphio's twin with an equally fabulous name. ML is hired by Tom as a salesperson at his new Rent-A-Swag store, which is a recipe for a wonderful disaster. Don't worry, Ron Swanson will swoop in with some words to the wise. [EW]
Showtime Gets Papal: We're going to Italy! Well, we're not, but Showtime has officially put their new pilot The Vatican into production, and we're pretty sure that that's in Italy. The network announced via release that Oscar nominee Sir Ridley Scott will direct the pilot, which Emmy nominee Paul Attanasio wrote. According to the release, Attanasio's script is "a provocative contemporary genre thriller about spirituality, power and politics — set against the modern-day political machinations within the Catholic church." Color us intrigued! With Attanasio, Scott, and The Good Wife's David Zucker set to produce, we'll give this one a very enthusiastic shot.
More Vampire Hatred on True Blood: Looks like the human versus vamp theme from last season of True Blood will continue. Arliss Howard has been cast as (human) Louisiana Governor Truman Burrell, a southern gent who has a serious beef with the undead, after one of them ran away with his wife. [TVLine]
Follow Shaunna on Twitter @HWShaunna
[PHOTO CREDIT: Michael Yarish/FX]
MORE:
TV Tidbits: A 'Married … With Children' (Almost) Reunion, 'Arrow' Finds a New Villain
TV Tidbits: Sandy Hook Shooting Leads to Show Cancellations
TV Tidbits: ABC Catches Bieber Fever, More 'Mindy Project' Casting Changes
You Might Also Like:

20 Hottest Bikini Bodies of 2012: Megan Fox and More!