Hurry Up and Tweet!: Nielsen Is Ranking TV Shows Based on Twitter Activity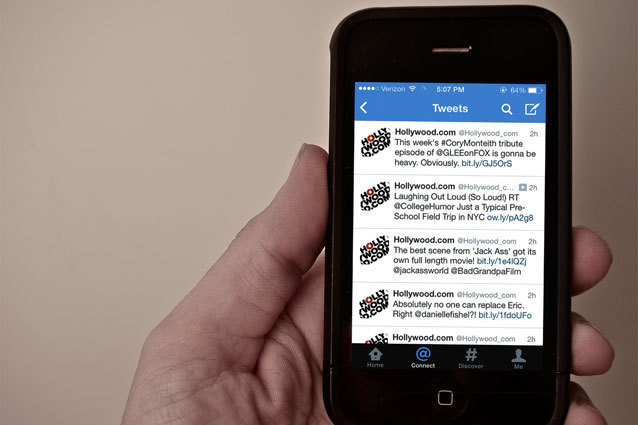 Steve Garfield/flickr
Being a television fan is a particular kind of struggle. When your favorite show gets canceled, most times, there's no closure or proper ending. Plot threads are left dangling, stories go unfinished, and character arcs go uncompleted. It's like you're in the middle of a book, and all of a sudden, all copies of that book immediatly burst into flames. leaving you to mull over the ashes. While it might feel helpless at times, using your Twitter account may just save your favorite shows from an untimely death.
Twitter and Nielsen released their first rankings for their joint TV ranking list based on the amount of Twitter chatter gleaned by a television show. Unsurprisingly, the rankings look nothing like the official Nielsen rankings.
1. AMC, Breaking Bad, 9.28 million
2. NBC, The Voice (Monday), 3.84 million
3. ABC, Jimmy Kimmel Live (Thursday), 3.40 million
4. ABC, Dancing with the Stars, 3.20 million
5. ESPN, SEC Storied, 2.93 million
6. ABC, Grey's Anatomy, 2.84 million
7. NBC, The Voice (Tuesday), 2.77 million
8. Fox, Glee, 2.73 million
9. CBS, How I Met Your Mother, 2.55 million
10. Fox, The X Factor, 2.09 million
The list shows a huge disparity between what Nielsen says people are watching, and what people are talking about on social media. Breaking Bad was the undisputed king of twitter last week, amassing 9.28 million conversations on Twitter. This is interesting because the finale didn't even break the top 20 shows on the official Nielsen ratings. In fact, the only shows to appear on both lists are Dancing With The Stars and The Voice. 
Different shows lend themselves to social media conversations more than others. An event like the final episode of Breaking Bad would naturally light the Twittersphere on fire while an episode of NCIS would only have a tiny Twitter presence, even though the latest NCIS had twice the number of viewers as the Breaking Bad finale. Obviously, it would be a terrible idea to base TV viewership numbers solely on Twitter conversations, but the new ratings do give us an idea about the kind of buzz a show gets, and what kind of shows send people flocking to their Twitter accounts to read or create their own reactions. 
Moreover, the Twitter ranking would finally give a voice to the millions of television watchers who are not counted in the Nielsen ratings. While Nielsen only takes a very tiny sample of television viewers and applies that to the larger television viewing audience, the new Twitter rankings would allow people to show their love for a TV show in a measurable way that the networks can actually view and appreciate. This is certainly an interesting development for critics of the Nielsen model of counting television viewership. So if your favorite show is in ratings trouble, hashtag like your life depended on it. It just might give it a second chance at life.
More:
Netflix is Eliminating 'Breaking Bad' Spoilers with New Twitter App
'Breaking Bad' Finale Gets 10.3 Million Viewers
Our Ten Favorite Episodes of 'Breaking Bad'
Follow @Hollywood_com
Follow @CurrentlyJordan
---
From Our Partners:


A Complete History Of Twerking (1993-2013) (Vh1)


20 Grisliest TV Deaths of 2012-2013 (Vulture)