21 Facts You Don't Know About 'Silicon Valley'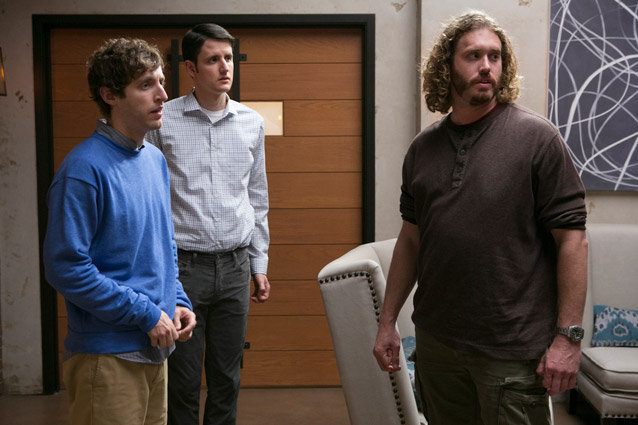 HBO
HBO's Silicon Valley just finished its first season. The show features a great cast of comedians, and it's managed to satirize the nerdy masculinity of the real Silicon Valley while retaining the feeling of innovation and coolness. Here are some facts you might not have known about the show.
1. On the show, Peter Gregory hates college and promises in a TED talk to pay students to drop out. In real life, PayPal co-founder Peter Thiel started a foundation to pay students to leave school and work on their startups.
2. There's a real Pied Piper website (created by HBO).
3. There's also a fan-made website for calculating a Weissman Score, and one for Aviato (Erlich's company). 
4. You might remember Martin Starr (Gilfoyle) as Bill on Freaks and Geeks. 
5. Dan Lyons, creator of the hilarious Fake Steve Jobs blog, has been hired as a writer for the second season. 
6. There are real places like Erlich's incubator, where people hoping to make it big in Silicon Valley can stay. 
7. Residents of the real Silicon Valley tech community are enjoying the show.
8. The car Peter Gregory gets into in the pilot is a Tango T600 Luxury Electric Car.
9. The show's stars Thomas Middleditch (Richard), T.J. Miller (Erlich), and Kumail Nanjiani (Dinesh) have been friends for a decade. 
10. Nanjiani has revealed that the next season will reveal Dinesh's backstory.
11. The TechCrunch Disrupt event in the finale used many elements of the real event, including the real Disrupt Cup.
12. When making the important decision of PC or Mac in outfitting the show's many office sets, designer Richard Toyon visited real companies like Facebook and Techcrunch. The result? Mostly Apple products with a smattering of Android and PC. 
13. The elaborate, pivotal, and hilarious hand job joke in the finale took 14 hours to shoot.
14. The event in which Jared is kidnapped by a driverless car is hilarious, but implausible. 
15. Compression experts Vinith Misra and Tsachy Weissman coded Pied Piper for the show. 
16. On seeing the premier, Tesla CEO Elon Musk said "Most startups are a soap opera, but not that kind of soap opera."
17. T.J. Miller, who plays Erlich, developed an app in real life. It's called Slang With Homies, and it's sort of like Words With Friends. 
18. The company Hooli is clearly based on Google. Silicon Valley borrowed a few elements from Google to furnish the Hooli offices. 
19. Christopher Evan Welch, who plays Peter Gregory on the show, passed away before the show aired. Here's his amazing final scene:
20. Real Silicon Valley parties can be as awkward as the Kid Rock appearance in the pilot. 
21. The show's creator, Mike Judge, has a physics degree and worked at a Silicon Valley startup.