Update: ABC Renews 'Happy Endings,' Picks Up 7 Dramas and 5 Comedies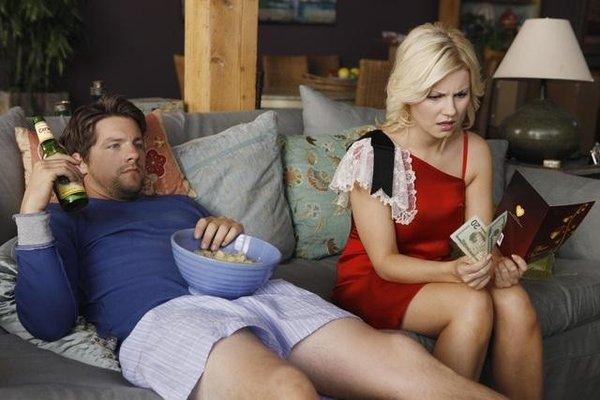 Update: Don't you just love this time of year? That time when networks are slashing and stacking shows faster than Dan Akroyd could stack burgers at the Olympia? Yeah, it's a lot to process, so here's a little more for you to take in. ABC just gave the okay to seven dramas and five new comedies: the retro dramas Charlie's Angels and Pan Am, the southern soap Good Christian Belles (formerly Bitches), Once Upon a Time, Revenge, The River, Shonda Rhimes' Scandal, Last Man Standing (starring Tim Allen), the single girl comedy Apartment 23, Work It (the show about cross-dressing), Suburgatory, Smothered and finally Other People's Kids. Is it just me or does it seem like they let Stefon name half of these shows?
More good news comes in for the comedy, Happy Endings, which despite an Osama Bin Laden joke snafu is doing well for the network. The comedy and the new drama, Body of Proof, are renewed for next season.
Unfortunately for a few other shows, they're off to join Brothers and Sisters. Off the Map, No Ordinary Family, Mr. Sunshine and Detroit 1-8-7 are all done for, and I doubt anyone is surprised.
Earlier: Just last night my friend and I very unscientifically determined that ABC's Brothers and Sisters is a total mom show, meaning a show that only our moms watch. Apparently, that doesn't really make for stellar ratings though, so I'm sorry moms, but Brothers and Sisters is no more. The network just cancelled the family series. Also saying farewell is V, the alien-centric drama that never quite caught on despite the ambiguously mysterious marketing approach.
As for the Walker clan, they almost stood a chance. ABC was working tirelessly to find a way to afford six more episodes to give fans come closure, they even chatted with Calista Flockhart about the possibility, but ultimately they were unable to find a solution so the show will just end as is. Sorry fans, but network budgets are thin these days and if it can't at least float, it's dead in the water.