Let's Try Long Distance: Jason Ritter and Alexis Bledel Preview 'Us & Them'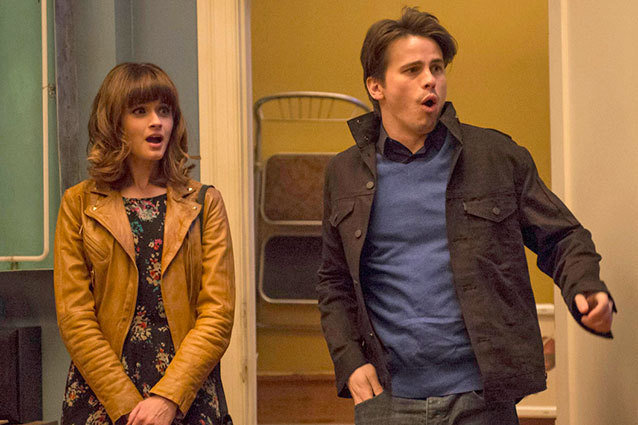 FOX
Who better to play a couple that the entire viewing public will root for than the uncommonly adorable and blue-eyed Jason Ritter and Alexis Bledel? That's their job in the upcoming Fox series Us & Them: to make us fall in love with them enough that we understand why their family and friends uproot their lives to bring the long-distance pair together. At a special New York Television Festival screening event on Tuesday night, Ritter (Gavin) and Bledel (Stacey) were joined by executive producer David Rosen and their castmates Ashlie Atkinson (Nessa), Kurt Fuller (Michael), and Dustin Ybarra (Archie) to air the pilot and talk about this American adaptation of hit British sitcom Gavin & Stacey.
The pilot recreates a few classic moments from the first series created by James Corden and Ruth Jones, but deviates widely in places. The arc of the developing long-distance relationship of our title characters, for example, won't move as quickly as the British six-episode season format demanded. The city/country action has moved from Essex and Wales to New York and the very real Dillsburg, PA, respectively. ("I have their weather on my phone!" Atkinson said.) The cast talked about the meshing of their ensemble (Fuller: "We would sit at the table and just laugh and tell jokes and before we knew it, an hour was up and we were doing the scene again.") which also includes a mini-reunion of The State with Michael Ian Black as Stacey's Uncle Brian (perhaps the fan favorite of Gavin & Stacey) and Kerri Kenny as her mom Gwen, plus Malcolm in the Middle super-mom Jane Kaczmarek as Gavin's mother Pam; the pressure of playing an existing character ("I started to watch [Gavin & Stacey] when we were shooting, but then freaked out and had to stop," Ritter said); and high hopes for the future of the show. Atkinson bet one of the producers that if the series is picked up for a full season, she'll get a real version of Nessa's bacon tattoo.
The future of the show looks murky at the moment — Fox halted production with only six episodes finished. Those will air early next year. We hope it gets another chance. Us & Them is the rare adaptation that has its own vision, voice, and a sparkling cast chemistry. The panel encouraged those who want to see that develop to tweet, Facebook, and email Fox to demand more.