A Valentine's Day TV Guide: Because Television Love is Better Than the Real Stuff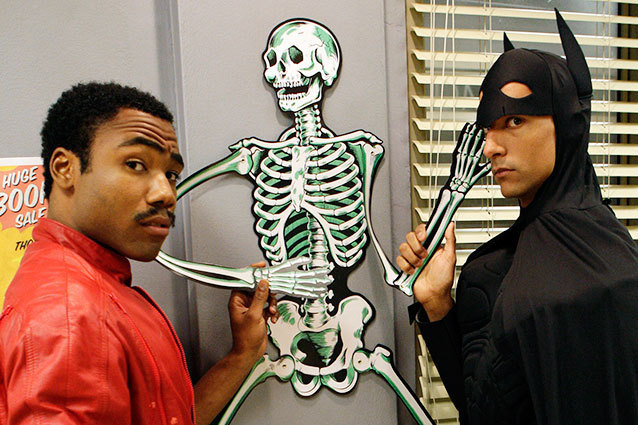 So, it's Valentine's Day, and you — again – are single. You could go out with your friends, hitting the town to scope out its most eligible of bachelors/bachelorettes. You could also use this rare pass you have to consume an entire bottle of red (or two) on a Thursday night, listen to some Joni, and cry. Or you could be a major whore and text your exes, and if that doesn't work, hit up the casual encounters section on Craigslist. No one is judging! (Yes, yes they are.)
But you know what? Screw that noise. Because maybe you have an excuse. Maybe you don't feel well. Maybe you're on a diet because you just moved to the city and drank too much last month, and you gave up chocolate for Lent. Maybe you just prefer the company of your cats to other human beings in general. Or maybe you're me, and it's all of the above. Either way, maybe you just DO NOT CARE about Valentine's Day. So saddle up, kids — there's a lot of good stuff on TV tonight, and despite what everyone in your office and on commericals is telling you, you are in your full right to sit on your ass alone and watch it.
RELATED: Be Mine! 6 TV-Inspired Valentines From Your Favorite Characters
If You're Longing for a Different Holiday… It may be February everywhere else, but it's still October in the hallowed halls of Greendale Community College. Community will finally air its Halloween episode tonight at 8PM, so tune in to NBC if you like joy and happiness. To make things even better, Parks and Recreation is on right after… with an episode that will feature Ron Swanson filling in for Leslie during a live TV performance. Oh Parks, you beautiful tropical fish.
If You're Searching for that Supernatural Someone… Why go outside with your REAL boyfriend when there are Salvatores on TV? The Vampire Diaries is new tonight at 8PM, with an episode that will heavily feature Jeremy's arms. 
If You Want to Hear Sweet Songs About Love… Then Fox is the place to be. Not only is Glee having an (OMG) wedding, but American Idol will reveal its top 40.
If You Need a Little Mystery in Your Life… Kidnappings and Nazis and clocks, oh my! ABC will premiere its new mystery show Zero Hour tonight at 8PM, so tune in if conspiracy theories are your thing. Grey's Anatomy and Scandal will follow, so it's sure to be a drama-filled evening over at ABC.
RELATED: 'Community' Gets Scary For Valentine's Day: Six of the Scariest Romances at Greendale
If You Like Laughing at the Failure of Others… Search no more, friends! Bravo is serving up hours of The Millionaire Matchmaker, from morning until 10PM. Quick, let's leave work so we can watch crazy rich people get rejected!
If You Like Things That Are Beautiful and Wonderful and Oh God I'm Going to Cry Just Thinking About This… The Disney Channel is playing Wall-Eat 8. Sniff.
RELATED: 'Desperate Housewives' Twins Are Grown Up, Shirtless, and Gorgeous on 'Teen Wolf'
If You…Oh, Just Why the Hell Not? Encore is playing Gremlinsat 8! This has nothing to do with Valentine's Day, but this movie should be watched every day.
If You Think You're Going to Die… The National Geographic Channel is playing Doomsday Preppers all night. Have fun making that bunker, weirdo.
If You Don't Give a Damn… Then TCM is playing Gone With the Wind at 8PM. Tune in to watch love lost! See, it's not just you.
If You're a Masochist… TLC is playing Say Yes to the Dress all night. But ew, why would you do that to yourself?
Follow Shaunna on Twitter @HWShaunna
[PHOTO CREDIT: Chris Haston/NBC]