'The Vampire Diaries' Recap: Elena Eats Cheerleaders, Catfights With Caroline. Just Another Thursday.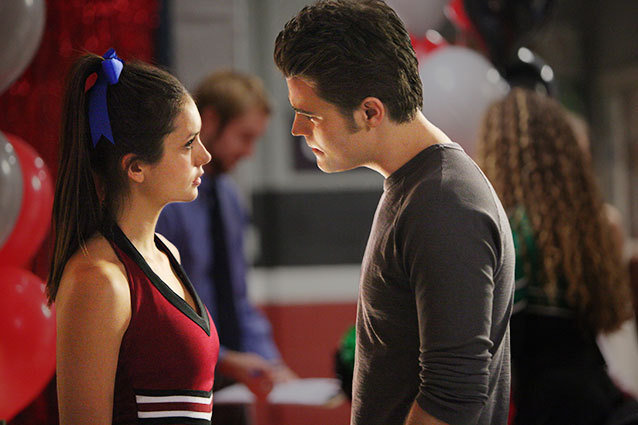 While The Vampire Diaries' first post-Jeremy episode focused on a humanity-less Elena being a major bitch (murdering strangers, purposefully dropping her friends during cheerleading stunts, trying to murder her friends' moms), there's one thing we really need to talk about: Stefan and Caroline. This is the best pairing since, like, ever, Y/Y?
Caroline and Stefan both love Elena very much (in different ways), so watching their friend (and ex, in Stefan's case) on a downward, feeling-less spiral was both scary and sad. The two have been close over the years, but with Tyler on the run from Klaus forever (so we heard via heartbreaking letter) and Stefan finally beginning to get over Elena, maybe it's time they become more than friends.
If nothing else, this friendship has given us the gift (and hopefully, GIF) of Paul Wesley hoisting a giggling Candice Accola over his shoulder and dragging her to the dance floor.
RELATED: 'Vampire Diaries' Boss on Elena's 'Tsunami of Grief'
But amidst their blossoming love (hey, you know you want it to happen too), Elena continued on her rampage against all the things she used to value in the world. You know, like human life and decency. The episode began with Elena in the middle of the road, much like Damon when we first met him, devolved into her devouring the opposing team's cheerleaders (now that she's re-joined the squad), purposefully letting her BFF fall during a stunt, threatening to eat said BFF's mom (who is also the sheriff), then straight-up attacking said friend in the woods.
As Damon astutely noted, "In any other circumstance this would be a major turn on." But instead Elena and Caroline's catfight was actually quite sad. Elena is clearly trying to prove something — or bury her pain over her brother's death — by actively trying to destroy everything about her life. She's turned off her humanity, yes, but Elena seems to have an agenda to totally ruin everything.
"This isn't you and you know it," Caroline told her. "You hurt my mom, Elena. How far are you going to take this?"
RELATED: 'The Vampire Diaries' Recap: I'm Sorry, He's Dead
Apparently, literally very far: to New York. The episode ended with Damon and Elena driving up to New York City. What are they doing there? Time will tell. Or, next Thursday when the episode airs. Either one.
The other major development included Klaus and Hayley having some super hot werewolf-on-hybrid sex. Oh, also, Klaus realized from her crescent moon-shaped birthmark that she probably came from a Louisiana werewolf clan. Does anyone smell "spinoff setup"?
Two final things: One, voicemails to Tyler are totally the new vampire diary. (Or possibly Felicity's tapes to her pen pal, Sally.) Except they're not going to continue, probably, since Tyler revealed in a letter that he's on the run for good (as long as Klaus is alive and murderous, which he always is if he's alive) and he's deeded his house to Matt. On one hand, yay Matt! Sweet digs. On the other hand, BOO NO TYLER.
RELATED: Leanne's Spoiler List: A BFF Battle on 'The Vampire Diaries'
Two, let's talk about this ravaged blood bank situation. The side mystery during "Bring It On" involved all the blood banks within 30 miles of Mystic Falls being wiped clean, and Stefan revealed that he thinks Silas is behind the thefts. At least they didn't totally ignore our new big bad, but it did feel a little like an after-thought to the episode, like they realized they should probably mention him at least once so we wouldn't forget who he was.
What did you think of "Bring It On"? Are you psyched that Stefan and Caroline could actually be a thing? Did you kind of not really care about Klaus and Hayley at all, except for the fact that it got Joseph Morgan shirtless for a little while?
Follow Jean on Twitter @hijean
[Photo Credit: The CW]
---
You Might Also Like:


14 Movies That Are, Surprisingly, Not Porn


Stars Who Have Lost Roles For Being Too Hot (Celebuzz)