'The Vampire Diaries' Boss on Elena's 'Tsunami of Grief' and the Aftermath of [Spoiler's] Death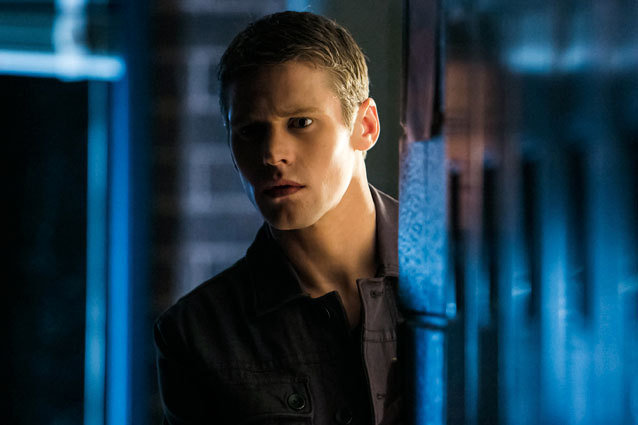 There's been a lot of death on The Vampire Diaries, but no episode of the CW soap has dealt with loss more beautifully than "Stand By Me." After three and a half seasons, our heroine, Elena, had lost every family member she'd ever had — her parents, her birth parents (after finding out she was adopted), her aunt, her teacher-turned-guardian. Her brother, Jeremy, was the only person she had left, and finally, after last night's episode, Jeremy died too. Nothing is ever permanent on this show, so for a week fans held out hope that this death wasn't real either, but tragically, Elena really has lost everyone she's ever loved — all before graduating from high school.
Hollywood.com caught up with showrunner Julie Plec, who wrote Jeremy's gorgeous sendoff, to talk about how the decision to kill the beloved character was made, how his loss will affect the other characters (a new love interest for Matt?), and what's next for Elena now that she's turned off her humanity and embraced the evilness inherent in becoming a vampire.
RELATED: 'The Vampire Diaries' Recap: I'm Sorry, He's Dead
Hollywood.com: When did you make the decision to kill Jeremy off?
Julie Plec: The decision that Elena needed to lose someone catastrophic was a decision we made at the end of last year when we knew we were going to turn her into a vampire and we knew we wanted the middle chapter of this season to be taking her to the darkest place imaginable. We debated what form that loss should come in, and realized that Jeremy was the obvious. After we lost Alaric last year, [losing Jeremy] was the most unrecoverable emotional tragedy.
This is more of a statement than a question, but that scene of Matt crying in his car was so moving, and Zach Roerig's performance was great.
He was so beautiful. It's a moment that reminded you that he is the human who is having a true human response, his heightened emotions are just borne out of actual humanity, and I love him for that. I love Zach for giving it everything he had too. [When we come back the gang will be focusing on Elena, but Matt's] not going to have an easy time of it either, and it's going to make him appreciate his place in their world that much more. Interestingly enough it's going to catch the eye of somebody who appreciates how nice it is and what a good human he is.
The rest of the gang mourning Jeremy's death was really affecting too.
I wanted everybody to represent a different dynamic of what happens when someone experiences great loss. You've got the friend who's like 'I'm going to make every pie imaginable; I'm going to bring over nine casseroles.' And then you've got the friend who's like 'Okay, you're here and people are taking care of you, so I'm going to fix all the other world's problems on your behalf,' which is sort of what Damon was trying to do, but ultimately they're kind of terrified to be there in the middle of it all. Then there's the strong, stoic, 'I'm going to stand by your side no matter how painful it is for me because I know it doesn't compare to your pain,' you had that in Stefan and ultimately in Matt. Matt's the person who in the simplest way was able to provide her with a just glimmer of hope. That's what I loved about everybody's different role.
RELATED: 'The Vampire Diaries' Recap: Is Jeremy Really Dead?!
This could be some of Nina Dobrev's best work.
She really did not hold back; she left it all on the table. We were so proud of her. It terrified her. She was in a terrible mood the whole week leading up to the episode — she was very emotional, very sad, and a little depressed, and didn't realize that it was all because of what she had to do as an actress in that next week. So it was funny after the episode was over just feeling this weight lift off of her. It's almost like she was plagued by constant PMS for the week leading up to that. I just saw the next episode, where she's No Humanity Elena, and she's such a bitch! It's so fun and it's a completely different characterization than Katherine. It's almost like Nina Dobrev has a completely different character to play.
How is Katherine different from No Humanity Elena?
Everything Katherine does is a sexual manipulation. She's always looking out for No. 1. She's looking out for her survival and she will play it coy and lie through her teeth and emotionally manipulate and use all her sexual tricks to get what she wants, whereas Elena is much more clinical and much more blunt. She's speaking the truth, it just isn't necessarily what anybody wants to hear.
How long will we have No Humanity Elena?
I will not answer that, but I will say that it's not just a quick two-episode arc and then it's over. We're going to dig deep into it and let it play for a while.
How does the no humanity thing affect the dynamics of the sire bond?
I think that the question of what becomes of the sire bond — how does it work now? Can Damon control Elena? Is she able to be controlled — is the biggest question, which we will answer in the next episode.
RELATED: 'The Vampire Diaries' Recap: Island Death Jam
Would Elena have turned off her humanity on her own?
I think that Elena would have wanted to turn her humanity off on her own so desperately and maybe fought against that with whatever last resolve she had to spare others from having to watch her go through it, but I know deeply that she would have wanted to.
What are the consequences for Damon for being the one who initiated that?
When all is said and done, we really believe it was the right thing to do, and I think Stefan understands it was the right thing to do. It's not a good thing, it's not going to have a good outcome, it's going to have a lot of consequences. Most people have never experienced those multiple layers of grief in the way that this girl has. She's 18 years old and she's lost ever single person that she's ever had in her family and in her surrogate family. She's lost friends, and that is a tsunami of grief that I think everybody needs a coping mechanism for that. In this moment, I think that being able to detach herself is what she needed.
What is the next step for Damon and Stefan?
Well, the next step is who is this new person? Is it ok that she's this new person? What do we do about it? How can we fix it? How can we help her? And then if there doesn't seem to be a way to help her, how far off the edge is she going to go? So the cure remains in the background as the remaining solution to helping get this girl back to who she used to be. Unfortunately it's in the hands of Katherine Pierce — they're on a little bit of a collision course with her for the rest of the season.
The Vampire Diaries returns to The CW on Thursday, March 14. 
Follow Jean on Twitter @hijean
[PHOTO CREDIT: The CW]
---
From Our Partners:


25 Forgotten Celebrity Crushes of the '90s (Vh1)


30 Stars Who Have Gone Topless (Celebuzz)