5 Reasons To Watch The New Fox Show 'Sleepy Hollow'
Let's face it — there are about a million new shows that hit the airwaves every season, and although plenty start out looking cool, many of them just don't pan out in the end. At first glance Fox's new show Sleepy Hollow appears to be taking advantage of the usual gimmicks — an old, literary classic revamped with a modern-day setting and some hot actors to get us interested. But — dare we say — there's something different about this one. Here are a few reasons to tune in.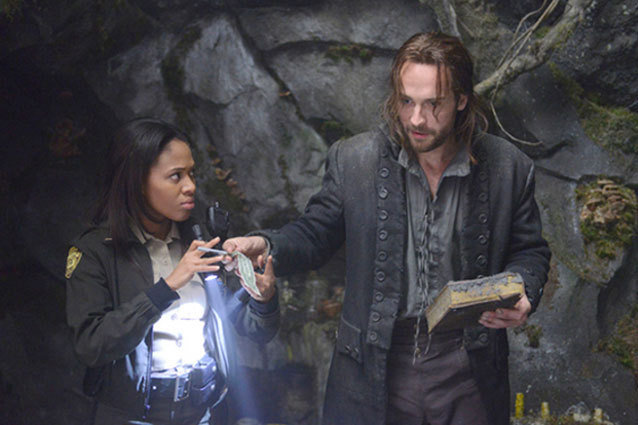 FOX
 The Nicole Beharie Factor
Although she's far from a household name, we predict big things for Nicole Beharie. She had small but significant roles in Shame and 42 (this year's Jackie Robinson biopic), and now she's playing Ichabod Crane's police partner. 
 Tom Mison, Who Apparently Goes By T-Mis
Look, a little eye candy never hurt nobody and the English actor is definitely a cutie. Taking on the lead role of Ichibod Crane, it's probably a good sign that his opening scenes in the season premiere (in which he literally rises from a shallow grave) have him look anything but hot. On-screen, the seasoned actor will rely on his legitimate acting chops, while off-screen he likes to go by his nickname T-Mis, and admits to having a hidden talent for twerking.
Numbers Don't Lie
The series premiered Monday night, and everybody and their mama tuned in. Sleepy Hollow nabbed ten million viewers, officially making it Fox's highest-rated fall drama premiere in six years.
Creator Alex Kurtzman Kinda Knows What He's Doing
Kurtzman and co-creator Roberto Orci have been at this game a long time; they were both 24 year-old producers when they suddenly found themselves in charge of  the series Hercules: The Legendary Journeys.  Since then he's written and produced for shows like Alias, Fringe, and worked with Michael Bay on the Transformers series.
It's Literally On Right Now
There. Now you have no excuse not to watch. Fox is streaming the pilot episode right now so you can see what all the hype is about for yourself. Go here to watch the pilot, and get ready for next Monday's episode.
Sleepy Hollow airs on Fox, Monday nights at 9 PM ET.
More:
Fox Orders 'Sleepy Hollow' Pilot & New J.J. Abrams Series
How Are You Not Watching ABC's 'Scandal'?
Check Out This 'Revenge' Teaser
---
From Our Partners:


40 Most Revealing See-Through Red Carpet Looks (Vh1)


15 Stars Share Secrets of their Sex Lives (Celebuzz)