Watch the 50-Year Evolution of Crazy Halloween Specials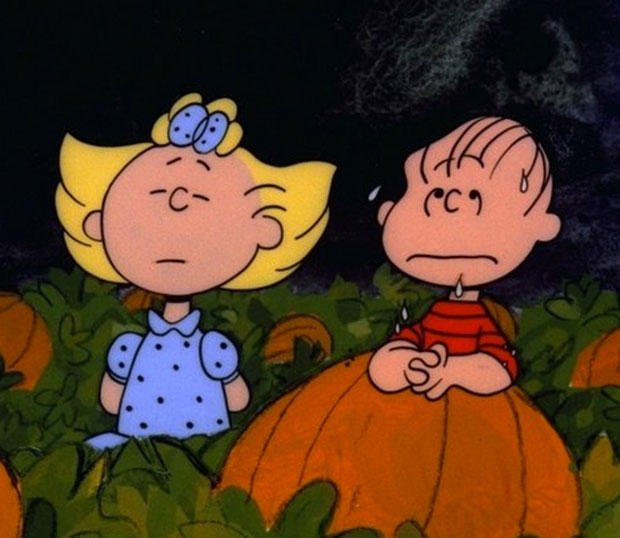 It's become an integral part of late October, like costume shopping, binging on tiny little candy bars, and watching Courtney Stodden pose practically naked in a pumpkin patch. Yes, of course I'm talking about the annual Halloween episode of every series under the sun. This spooky holiday didn't always scare up as much attention as it does now, where every sitcom, cop show, and Ryan Murphy gay-centric singing and lesson-teaching extravaganza feels the need to have a special episode to celebrate the creepiest of days. It's as if we haven't lived until we've seen our favorite characters in outfits so ridiculously elaborate that no one without a wardrobe department (or a massive budget) could do it on their own.
There was a time before Halloween specials. I know, I know. It's harder to imagine than it is to get rid of the Dum-Dums at the bottom of your plastic Trick-Or-Treat pumpkin, but it's true. From my extensive research (which mostly entailed Googling, reading Wikipedia, and wishing that I could go back in time to watch TV waiting for a Halloween special to eventually show up) I have found the first special devoted to America's second favorite holiday (and gay men's first).
The first TV Halloween episode was a 1952 episode of The Adventures of Ozzie & Harriet that addressed the boys having a Halloween party at school and their parents throwing one for their friends. (The did a similar radio show four years earlier.) The costumes are quite simple, the gags are quite old (this thing is 50 years old), and no one wears anything as intricate as what you would see on a network sitcom these days (did you catch all those outfits on Modern Family last week?). The best gag of the episode is a joke about Ozzy's neighbor getting so drunk last Halloween that he tried to climb a tree, pretty racy for this notoriously goodie-two-shoes show.
Several series followed suit after Ozzie & Harriet, including The Honeymooners in 1953, Zorro in 1957, Lassie in 1958, Dennis the Menace in 1961, The Beverly Hillbillies in 1962, The Andy Griffith Show in 1963, and The Lucy Show (the follow up to I Love Lucy) in 1965, but it was a slow trickle to respectability and mainstream acceptance for this most pagan of celebrations.
1964 was a very important year for these spooktaculars, because that was the start of an annual holiday tradition for one particular show. Bewitched started to do an annual Halloween-themed episode, witch was fitting since, well, there were witches and devils and disappearing Darrens and all those things that creepy-crawlers love. This continued until 1969, two years before it was canceled. The show's first foray in the jack-o-lantern territory, "The Witches Are Out," is below.
Now Halloween episodes were becoming more common, but the trend really started with a very special, well, special. In 1966 CBS aired It's the Great Pumpkin, Charlie Brown which would become a childhood staple for generations. It's aired every year since then, on CBS until 2000 and then on ABC starting in 2001. It still continues to this day, like Lucy ripping the football out from under Charlie Brown's foot, but with a much more satisfying finale.
Charlie Brown started a cavalcade of Halloween specials geared toward children in the '70s like The Halloween That Almost Wasn't, Raggedy Ann and Andy in the Pumpkin Who Couldn't Smile, Witch's Night Out, Bugs Bunny's Howl-oween Special, and let us not forget The Paul Lynde Halloween Special, proving once again that October 31 really is Gay Christmas.
One that has been forgotten is Halloween is Grinch Night, a frightening special about the Grinch hating another holiday before his heart grew three sizes that one Christmas, even though this was aired 11 years after How the Grinch Stole Christmas. Guess we have to call it a prequel.
In the '80s everyone jumped on the Halloween bandwagon (broomstick?) and every show from The Cosby Show to St. Elsewhere got into the holiday spirit. It was the end of the '80s that brought us to the modern era of Halloween entertainment. While they were widespread, most shows only tackled the theme once or twice. Roseanne, groundbreaking in so many ways, picked up where Bewitched left off and started a Halloween tradition of doing an extravagant show every year around the end of the month. It was one of the first times the audience knew and looked forward to an inevitable Halloween episode and it became a series trademark. Below is the first episode from season two, where Roseanne and her husband Dan try to outscare each other.
The next year, in 1990, The Simpsons started their famous "Treehouse of Horror" episode that has become synonymous with ghostly programming and is television's longest-running annual special episode, airing their 23rd (or XXIII if you want to be classy about it) special this October. The most recent one is below (you try finding Simpsons clips online, it's harder than getting Maggie to say something).
And the tradition continues today on shows like Glee and The Office, where Halloween is as much a part of the characters' lives as it is ours. Just wait for the next 50 years, where, to keep up with the trend, there will have to be at least one show where it is October 31 for the entire season. We can all thank the Great Pumpkin.
Follow Brian Moylan on Twitter @BrianJMoylan
[Photo Credit: United Features Syndicate]
More:
13 Of The Best Halloween Costumes of Television Past
You Can Now Watch The Full 'Happy Endings' Halloween Episode
NBC Celebrates Halloween with 'Community', 'Parks and Recreation' and 'Whitney' Clips
From Our Partners:

Tom Cruise's $50m Defamation Suit Over Suri Abandonment Claim: What Are His Chances of Winning? (INSIDE STORY) (Celebuzz)

Levi Johnston Marries Sunny Ogelsby in Alaska (Celebuzz)