We Rank The Best 'Friends' Thanksgiving Episodes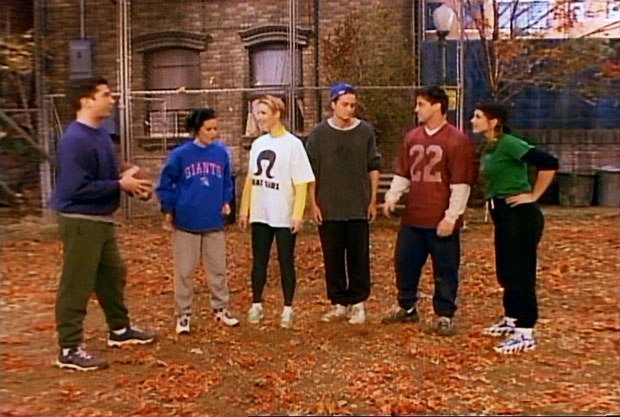 The Simpsons have Halloween, The Office claimed Christmas, and for ten wonderful seasons, Friends had the market cornered on classic Thanksgiving episodes. While the last Thanksgiving-themed episode of Friends aired exactly nine years ago, watching the reruns in syndication has become just as much a Turkey Day tradition as making the canned cranberry sauce jiggle and killing a perfect stranger for a Blu-ray player.The Thanksgiving episodes of the hit comedy are as comforting as a leftover turkey sandwich with a moist-maker in the middle, and just as funny now as they were when they originally aired. (Mid to late '90s fashion aside, Friends is one of the rare syndication sitcoms that has aged well.) Everyone has their favorite Thanksgiving episode of Friends, but, there's no need to argue (save that for the dinner table), we've ranked the best episodes for you! Because while we'll all gather with our loved ones this Thursday, is there anyone better to spend your Thanksgiving with than Courteney Cox's Monica, Matthew Perry's Chandler, Lisa Kudrow's Phoebe, Matt LeBlanc's Joey, Jennifer Aniston's Rachel, and David Schwimmer's Ross? Could we be any more nostalgic? So slap on a pair of Phoebe's pregnancy pants, avoid the Mocklate, and enjoy.

The Best Friends Thanksgiving Episodes In Order: 

1. "The One Where Ross Got High" (Season 6, originally aired on November 25, 1999)

It's no coincidence that the best Thanksgiving episode of Friends aired during one of the show's strongest seasons. (Season 6 was the year of Unagi, Chandler's proposal, and "the routine", among other gems.) When Monica and Ross' parents Jack and Judy (the great Elliot Gould and Christina Pickles) come to have Thanksgiving at their little Harmonica's, everything falls spectacularly apart for everyone. Monica tries to conceal her relationship with her live-in boyfriend Chandler from her parents, who have lived under the false pretense that he's a stoner. It turns out that in college, Ross lied to his parents about his own pot use and blamed it on his then-roommate Chandler when that distinct smell was not concealable. The whole thing escalates into the Geller siblings hilariously ratting each other out about a series of incidents ("Hurricane Gloria didn't break the porch swing, Monica did!"…"Ross married Rachel in Vegas, and got divorced, AGAIN!"), culminating in the revelation that Monica is living with Chandler. Meanwhile, Phoebe was having sex dreams about Jack Geller/Jacques Costeau, while Joey was desperate to leave and spend Thanksgiving with his hot dancer roommate Janine. Of course, the real pièce de résistance of Rachel's horrendously failed attempt at making a trifle when she mistakenly adds a layer of beef to her dessert. In the words of Joey, "I mean, what's not to like? Custard, good. Jam, good. Meat, good!"

2. "The One With the Football" (Season 3, originally aired on November 21, 1996)

This is the episode in which fans realized that Friends Thanksgiving episodes were going to be just as an important holiday tradition as the coveted Geller Cup during a rousing game of football. When the gang goes outside to play a "friendly" game of football, things get competitive on and off the field as Joey and Chandler compete for the affections of the same Dutch girl, while Rachel tries to prove her worth after being the last picked for teams. Maybe it's because it's so great to see the cast still dressed like regular people, or the fact that any time Ross and Monica have intense sibling rivalry is always a victory (see: "The One Where Ross Got High"), but whatever it is, this Thanksgiving episode had a winning recipe.

3. "The One With Chandler in a Box" (Season 4, originally aired on November 20, 1997)

The original d**k in a box, Chandler was forced to face the consequences of his actions after it was revealed that he kissed Joey's girlfriend Kathy. As punishment, Joey makes Chandler spend Thanksgiving in a big wooden box. Why exactly? Well, let's let Chandler explain: "The meaning of the box is threefold. One, it gives me the time to think about what I did. Two, it proves how much I care about my friendship with Joey. And three… it hurts!" While Joey and Chandler eventually patched things up, Monica (eyepatch and all) had to come to terms with her own romantic grey areas when she realized that kissing her ex-boyfriend's son is plain wrong.

4. "The One With All the Thanksgivings" (Season 5, originally aired on November 19, 1998)

Flashback episodes are tricky business, but Friends always pulled them off with flying colors. Season 5's "The One With All The Thanksgivings" was as memorable as the Season 2 game changer "The One With the Prom Video," but relied less on sentimentality and more on sight gags. Once again we're reunited with Fat Monica and Pre-Nose Job Rachel, but this time around we also meet Newly Skinny Monica, plus Flock of Seagulls and Miami Vice-inspired Ross and Chandler. Over the course of two Thanksgiving tales we learn that Monica shed all those pounds after Chandler called her fat and, perhaps in unconscious retaliation, she accidentally cut off the nub of Chandler's baby toe. But, really, who cares about character development? This is the one where Joey gets a turkey stuck on his head!

5. "The One With the Rumor" (Season 8, originally aired on November 22, 2001)

This one should really be called "The One With Brad Pitt," because let's be honest, that's what everybody calls it. Before Team Jennifer Aniston madness took over our lives, the then-married couple had one of the best cameos on television. Pitt played Will, an old friend of Monica and Ross', who spends Thanksgiving with the gang. Will, like Ross and Monica, spent high school nerdy and fat, respectively, and was tortured back in the day by the very popular Rachel. In fact, Will hated Rachel so much that he started the "I Hate Rachel Club," spawning a school-spanning rumor that she was a hermaphrodite. While at the time it was much funnier to watch Pitt mouth "I hate you" to his then-wife Aniston (it's a little sadder now) the episode still holds up, if only to watch Phoebe throw herself at Will, and Joey's (wearing Phoebe's maternity pants, no less) declaration, "You can't have Thanksgiving without turkey. That's like 4th of July without apple pie, or Friday with no two pizzas."

6. "The One Where Chandler Doesn't Like Dogs" (Season 7, originally aired on November 23, 2000)

Oh man, Tag was dreamy, wasn't he? No wonder why Rachel invited him over for Thanksgiving dinner. Not only did Tag find out that Rachel had a crush on him (the two eventually kissed by the end of the episode and started their relatively short-lived relationship), but we found out that Chandler hates dogs (even Phoebe's adorable borrowed pup Clunkers) and that Ross hates ice cream ("It hurts my teeth!") and can't name all 50 states. Plus, it had one of the greatest Joey-isms of all-time: his definition of a "moo point."

7. "The One Where Underdog Gets Away" (Season 1, originally aired on November 14, 1994)

The one that started them all, "The One Where Underdog Gets Away" was the original Friends Thanksgiving episode and it set the scene for the others to come. Not only do we learn about Chandler's anti-Thanksgiving affliction (it reminds him of his parents' divorce), but that Monica will always be the cook, sometimes with disastrous results. (This time the gang accidentally gets locked out of the apartment while the food, which Monica has prepared to their exact specifications, is cooking.) Of course, the only funnier sight than an Underdog float flying away from the Macy's Thanksgiving parade, or Ugly Naked Guy sharing a Thanksgiving feast with Ugly Naked Girl, is poor Joey's face plastered all over VD posters throughout Manhattan. We'll always cheer to this episode's toast: "Here's a lousy Christmas… and a crappy New Year!"

8. "The One With Rachel's Other Sister" (Season 9, originally aired on November 21, 2002)

While Brad Pitt's cameo was a ratings grabber, it didn't get quite the same critical love as Christina Applegate did with her Emmy-winning role as Rachel's conceited sister Amy. Applegate made her first appearance in this episode, crashing the gang's Thanksgiving without an invite. While the Greens' sibling rivalries are more mean-spirited than the Gellers', the episode doesn't have the same lasting effect as Monica vs. Ross Thanksgiving eps. Still, there were a few things to be thankful for here, including Chandler accidentally breaking all of Monica's fancy dishes, and Joey's wide-eyed freakout realization that he was supposed to be on the Days of Our Lives float in the parade.

9. "The One With the Late Thanksgiving" (Season 10, originally aired on November 20, 2003)

Much like "The One Where Underdog Gets Away," this episode was about a comedy of Thanksgiving preparation errors. When Monica reluctantly agreed to make dinner for everyone after they all pleaded with her (or, in the case of Phoebe, challenged her)to do so, she became understandably peeved when everyone shows up late. The only thing lamer than their excuses (Rachel entering daughter Emma in a beauty pageant was about as unappealing as a plate of Brussels sprouts) was the very schlocky moment at the end when Monica and Chandler find out they are getting a baby through the adoption agency. Still, the whole thing was redeemed by Joey's floating head stuck in the doorway and his addition of fire to Rock, Paper, Scissors.

10. "The One With the List" (Season 2, originally aired on November 16, 1995)

This wasn't a bad episode of Friends by any means, but as far as Thanksgiving episodes of the series go, this one was a bust. Maybe that's because instead of Monica making turkey she was making Mocklate, and Ross and Rachel — sorry, Rachem — were having their first of many fights instead of engaging in wacky Thanksgiving misadventures. I hate to complain ("Oh, I know, this must be so hard. 'Oh no, two women love me. They're both gorgeous and sexy. My wallet's too small for my fifties, and my diamond shoes are too tight!'"), but this one's the rare missed opportunity.

How would you rank the Friends Thanksgiving episodes?

[Photo credit: NBC]

More: 
Courteney Cox as Rachel?: The Surprising History of Friends
Exclusive: Matt LeBlanc Says Former 'Friend' to Guest on Episodes
Matthew Perry Stars in a New Sitcom: Have the Friends Alumni Evolved?