What Happened to the 'Up All Night' We Loved?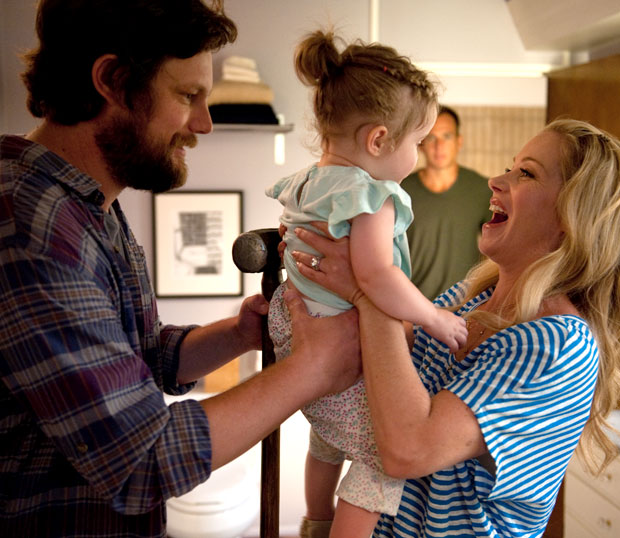 Plenty of sitcoms change their course after the first season. 30 Rock tightened up its form and got rid of Rachel Dratch playing a whole host of characters, Family Matters enlisted Urkel to go from a family comedy to a giant excuse for him to drop his signature catch phrase, and even The New Girl relied less on Jess and more on her breakout roommates. Things change. That's cool. But nothing in modern memory has changed as much or as drastically as Up All Night. The first episode of the show's second season aired last night on NBC and we barely recognized it.
When the show debuted it was supposed to be about Reagan (Christina Appelgate), a working mother who was balancing the needs of her baby, her lawyer-turned-stay-at-home-dad husband Chris (Will Arnett), and her daytime diva boss Ava (Maya Rudolph). In season two, it is not about any of that at all. In fact, it's about the opposite.
As the episode kicks off, we learn that Ava's show has been cancelled, leaving both her and Reagan out of a job. Chris decides to go back to work as a lawyer so Reagan can stay home with the baby. But then he changes his mind. Instead, he quits his new/old job and decides to start a construction business with Reagan's newly-introduced younger brother Scott (Luka Jones). Yes, the show has gone from being about what happens when formerly hip people have a baby to being a crazy workplace drama about a working mother with pressures at home to being yet another show about how all women want to raise their babies while a father goes out and pursues his ludicrous dreams. This new show is not what I signed up for when I put the season pass into my DVR last September.
It took awhile for Up All Night to find its groove, but by the end of season one it was something really different an interesting, hence the season pass. It was a funny take on women having it all and the sacrifices men must make for that to happen. That is not like anything else that has ever been on TV. Also, everything involving Ava was hysterical. Rudolph's character is the funniest thing on the show (I would give her the Outstanding Funny Lady on a Comedy Show Emmy if I could) as was her dim bulb assistant Missy and her ongoing rivalry with a former protege turned fellow talk show host played with great bile by Megan Mullally. These were the things I loved most about the show, and now they are all gone.
I always said that the show would need more interesting characters if it wanted to survive for the long-term and yes, it needed a shift from Season 1, but I think this was the wrong direction. If I were running the show (and there is a reason I am writing about it and not actually running it) I would have bet everything on the Ava show, since that was usually the funniest and most rewarding part of the half hour. Instead it got the chop altogether. And Molly Shannon's wacky nanny and Will Forte as Chris' silly best friend don't seem to be around either, sadly. Where are all the great things about this show that I loved?
What's most troubling is this seems like the dramatic repositioning that a show goes through once it's in decline, when its best years are behind it, its big stars are leaving, and it needs a new hook (there's a reason you don't remember Laverne and Shirley moving to LA). The core cast of Up All Night, always its best asset, can do wonders with even the worst material (remember Arnett making it through the awful Running Wilde?) and they may have great new material to work with but where is the show we know and loved? If it was going to be overhauled so dramatically, why not just give it the axe and start over? What was great and refreshing was this was a female-centric show that looked at motherhood and family life in a totally revolutionary way. What we have now is a woman at home, a guy at work, and a standard sitcom formula. Let's hope these are just growing pains (not the Kirk Cameron show) and not a death knell.
Follow Brian Moylan on Twitter @BrianJMoylan
[Photo Credit: NBC]
More:
NBC's New Sitcom 'Up All Night' Amps Up its Maya Rudolph Dosage