'90210' Is Canceled, So What's Next for Shenae Grimes and the Rest of the West Bev Grads?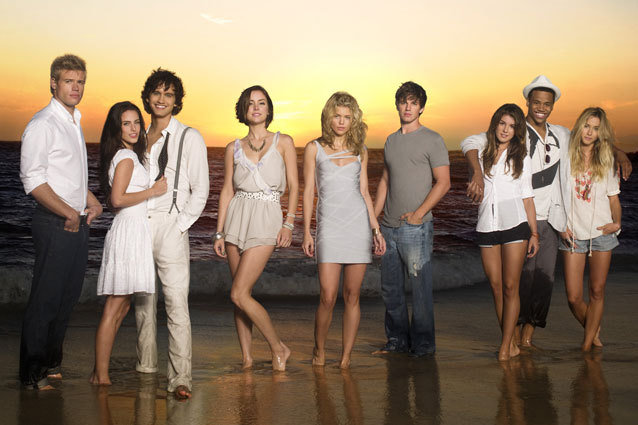 Now that The CW has canceled 90210 after five seasons, a question hangs over the heads of the actors who comprise the drama's hot, young ensemble: What next?
With their show's series finale airing Monday, May 13, the talented 90210 cast members have plenty of options ahead of them — especially since the decision to axe the show came in the thick of pilot season. The biggest (and best) idea at this point would be to capitalize on their CW fame and hop onto another show on the same network, either joining a recurring series or a new pilot. The CW loves to keep its actors in the family and recycle them across its different series (for which we are eternally grateful: If not for Cult, how else would we see the amazing Matt Davis every week after Alaric left us with tear-streaked faces following his Vampire Diaries death?). With that in mind, we've brainstormed some dream roles for each of the displaced 90210 kids. Here's what we came up with:
RELATED: '90210' Canceled After 5 Seasons
AnnaLynne McCord has both the looks and attitude perfect to play a young, successful Manhattan woman in the '80s on The Carrie Diaries. Perhaps Carrie Bradshaw will need another mentor now that her first one is her boss at Interview magazine. Shenae Grimes has the sweet country girl act down pat (Annie was a nice girl from Kansas transplanted into Beverly Hills at the start of 90210), so maybe she can head to Bluebell, Alabama and befriend Hart of Dixie's Zoey Hart — the doctor's going to need a pal after her recent heartbreak thanks to Wade's infidelity. Matt Lanter's got the build and bravado to go up against Arrow's Oliver Queen in an action-packed fight, one that we are more than glad to witness. Especially if it's shirtless. But would he be a friend or foe to our favorite archer? 
Jessica Stroup bears a certain family resemblance to Dillon Casey's Sean Pierce on Nikita, so she'd be perfect as one of the sisters he had to leave behind after he faked his death last week. Jessica Lowndes has the perfect dark looks to portray a vampire (either good or evil) on The Vampire Diaries — or the potential spin off series, The Originals. Michael Steger would be great in Greg Berlanti and Julie Plec's pilot The Tomorrow People, about young people who represent the next stage in human evolution. Tristan Wilds could check out Sera Gamble's pilot Company Town, a drama revolving around a scandal at a Naval base in Virginia.
RELATED: Fall Out Boy Heads to '90210'

There are also other networks, though that's sometimes easy to forget between all the shirtlessness — why would you click anywhere else? Trevor Donovan has already signed on to guest star for three episodes on ABC Family's Melissa and Joey (in fact, his stint was announced mere hours after 90210's cancellation… now that's speedy, even by Hollywood's standards). Joining a show on a different network would give the actors a chance to build their fan base outside of The CW's target demo. 
Of course, there's always the option to leave acting behind and fade away into obscurity… but something tells us these beautiful people will choose to stay on our TV screens one way or another. And that's right where we want them! What do you think the 90210 alums should do next?
Follow Sydney on Twitter: @SydneyBucksbaum
[Photo Credit: Patrick Ecclesine/The CW]
---
From Our Partners:


Justin Bieber Celebrates 19th Birthday, Loses His Pants (Vh1)


60 Celebrity Bikini Bodies: Guess Who! (Celebuzz)