Which Former Weekend Update Anchor Is Having the Best Post-'SNL' Career?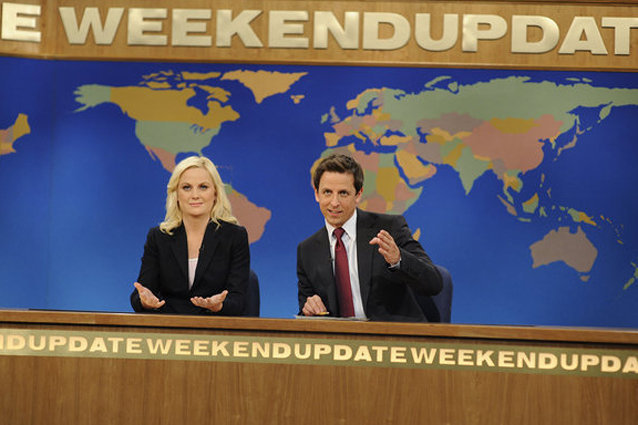 NBC
On Saturday Night Live, the cast member who anchors Weekend Update has always had a special role to fill on the show. Guaranteed a showcase, they are the one constant in an otherwise ever changing group of sketches.
The originator of the role, Chevy Chase, left after one season to find stardom in movies, setting an example that would be followed going forward: Weekend Update anchors moving on to bigger and better things. You may have heard of Chase's immediate successors — Jane Curtin, Dan Aykroyd, and Bill Murray — all of whom (along with Chase) continue working regularly in film and television 30-plus years later. But how about everyone else who's held the desk?
THE LOST YEARS
When first Jean Doumanian and then Dick Ebersol took over as executive producer after Lorne Michaels exited the show following the 1979 – '80 season, the segment went through a number of changes, including sometimes being called Newsbreak and Saturday Night News. The most prominent host during the early '80s was Brad Hall — known to most, now, as Julia Louis-Dreyfus' husband — who anchored from 1982 – '84. Many of the other anchors during that time — Charles Rocket, Christine Ebersole, Brian Doyle-Murray, and Mary Gross — did the segment for just a year (or less). Most members of this group have faded into the background, although Rocket, who famously dropped an F-bomb during a SNL sketch, made regular appearances on television and movies (Moonlighting, Dances with Wolves) until his death in 2005. Doyle-Murray (Bill's older brother) and Guest were established character actors before joining the show and didn't miss a beat after leaving. Doyle-Murray has been in everything from National Lampoon's Christmas Vacation to ABC's The Middle, usually playing some variation of a blowhard. Guest most famously played the six-fingered Count Rugen in The Princess Bride and earned additional praise for directing ensemble comedies like Waiting for Guffman and Best in Show. 
THE GOLDEN AGE
Since Michaels took back the reins of SNL in 1985, the format of Weekend Update has remained largely unchanged and the comics that have sat behind the desk have become some of the biggest names in entertainment. But, who's having the best post-SNL career? Starting with the mid '80s, we rank them from worst to best below:
Kevin Nealon (1991 – '94) and Colin Quinn (1998 – 2000)
Most non-hardcore SNL fans would have difficulty remembering anything about either Nealon's or Quinn's stint on Update, so maybe it's not surprising that they've had the least success since leaving the show (although they've still done significantly better than most of the Ebersol folk). Quinn was a stand-up comic before the show and just returned to doing more of the same when he left. He did host a show on Comedy Central for a while, Tough Crowd with Colin Quinn. Nealon's biggest success came playing hapless accountant Doug Wilson on Showtime's Weeds. Each is friends with fellow SNL alum Adam Sandler, so Nealon and Quinn also show up occasionally doing cameos in Sandler's films. Lately, we've seen Quinn show up on episodes of Girls as a boss and friend of Alex Karpovsky's character Ray.
Norm Macdonald (1994 – '97)
Like Quinn, Macdonald came to SNL with an established background in stand-up. He had the good fortune to be behind the desk during the O.J. Simpson arrest and trial, which provided endless fodder for the comedian… and possibly led to his dismissal after running afoul of NBC executive Don Ohlmeyer, a friend of Simpson. Macdonald had his own sitcom on ABC for three years (Norm), and keeps a steady schedule of stand-up dates. Besides doing voice-over and commercial work, he's also a frequent guest of Conan O'Brien and, like Quinn and Nealon, has a habit of showing up in movies that Sandler produces.
Seth Meyers (2006 – '14)
Meyers sat behind the Weekend Update desk longer than anyone, and is the only anchor that worked both solo and with a partner. He has only been gone a few months, so it's hard to grade him, but he's off to a rousing start as the host of NBC's  Late Night with Seth Meyers, maintaining his 30 Rock residence and boss Michaels. We're rooting for you, Seth.
Dennis Miller (1985 – '91)
Miller was the one responsible for returning Update back to something closer to Chase's original version. Unlike most of the others, Miller's sole role on the show was hosting the fake news segment, very rarely taking part in any of the show's sketches. Miller also might be the most controversial of the former anchors. After leaving SNL, he hosted Dennis Miller Live on HBO from 1994 – 2002, winning five Emmys. He also did a disastrous two-season stint as a commentator on ABC's Monday Night Football. After 2001, Miller's political views became increasingly conservative, leading to him to a gig at Fox News with a regular spot on Bill O'Reilly's The O'Reilly Factor. Since 2007, Miller has also hosted a syndicated radio show. Oddly, when Miller is on vacation his frequent fill-in both on radio and with O'Reilly is Macdonald.
Amy Poehler (2004 – '08)
One of the founders of the influential improv group Upright Citizens Brigade, Poehler joined with Tina Fey to form the first all-female team on Weekend Update, and the two have been joined together ever since. Poehler was such a powerful presence on the show that she managed to make an appearance on the segment by frequent target Vice Presidential candidate Sarah Palin come off as charming instead of forced. Since SNL, Poehler has starred in the movie Baby Mama and has done the voices for more animated characters than we can count. She also just completed her sixth season starring in NBC's Parks and Recreation. Time magazine named her one of the 100 Most Influential People in the World in 2011 and, oh yeah, and she has a little awards show hosting gig that she does with Fey.
Jimmy Fallon (2000 – '04)
Fallon teamed with Fey to turn Update back into a buzz-worthy segment, with the two of them trading quips at which Fallon would frequently crack up. He tried his hand at movies after leaving the show, starring in Fever Pitch with Drew Barrymore and Taxi with Queen Latifah. It was when he returned to television, however, that he really hit his stride. Starting with taking over for O'Brien on Late Night, Fallon has steadily grown into one of the most powerful people in the entertainment industry as a late night talk show host. In February, he took over for Jay Leno on The Tonight Show, moving it back to New York from Los Angeles and earning accolades for his mix of goofy humor, music, and social media interaction.
Tina Fey (2000 – '06)
During her time on SNL, in addition to co-anchoring Update with first Fallon and then Poehler, Fey was the show's first female head writer. While still on the show, Fey wrote the hit teen comedy Mean Girls, and since leaving has starred in a group of comedies, including Baby Mama with Poehler and most recently Muppets Most Wanted. She wrote, produced, and starred in NBC's 30 Rock for seven seasons, and her book Bossypants  was number one on the New York Times bestseller list for five weeks. She's won eight Emmys, most recently for her work hosting the Golden Globes with Poehler, and she was the youngest ever recipient of the Mark Twain Prize for American Humor. Dazzlingly smart and funny, it's hard to find many people that can match resumes with Fey.