Who Had the Best First Week of 'The Tonight Show'?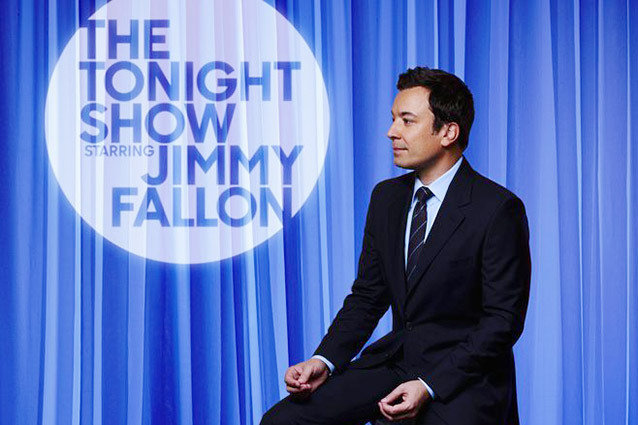 NBC Universal Media
With Jay Leno's second (and hopefully final) departure from The Tonight Show, the torch has officially been passed. SNL vet Jimmy Fallon is now set to take over the program after his wildly successful tenure on Late Night. NBC has announced which guests will be joining Fallon on the couch for his first week as host, and the list spans the gamut of Hollywood's heaviest hitters. With such an impressive lineup scheduled for his first few shows, we decided to compare Fallon's first week with the first weeks of the other recent recipients of The Tonight Show. So how does The Tonight Show with Jimmy Fallon stack up?
 The Tonight Show with Jimmy Fallon (2014)
Monday: Guest: Will Smith/Musical Guest: U2
Tuesday: Guests: Jerry Seinfeld, Kristen Wiig/Musical Guest: Lady Gaga
Wednesday: Guest: Bradley Cooper/Musical Guest: Tim McGraw
Thursday: Guests: First Lady Michelle Obama, Will Ferrell/Musical Guest: Arcade Fire
Friday: Guest: Justin Timberlake
Star Power: 10/10
Musical Guests:  9/10
Overall:
Jimmy Fallon's fun and frenetic late night style has celebrity guests smitten. This fact is clear from the sheer star power he was able to attract for his first couple shows.  Huge stars like Will Smith, Jerry Seinfeld, and even the FLOTUS herself, Michelle Obama are showing up to inaugurate Fallon into the 11:30 timeslot. Even more impressive are the musical guests. From U2 to Arcade Fire, there's a good mix of old and new favorites. The only caveat is that there's a lack R&B or hip hop.  A bit of Kanye or Beyonce would have gone a long way.
The Tonight Show with Conan O'Brien (2009)
Monday: Guest: Will Ferrell/Musical Guest: Pearl Jam
Tuesday: Guest: Tom Hanks/ Musical Guest: Green Day
Wednesday: Guest: Julia Louis-Dreyfus, Bradley Cooper/Musical Guest: Sheryl Crow
Thursday: Guest: Gwyneth Paltrow, Joel McHale/Musical Guest: John Mayer Trio
Friday: Guest: Ryan Seacrest, Patton Oswalt/Musical Guest: Chickenfoot
Star Power: 8/10
Musical Guests: 7/10
Overall:
Conan O'Brien started off his short-lived time as host of The Tonight Show on fire, with Will Ferrell and Tom Hanks making up his first two shows, but the week cools off considerably with Gwyneth Paltrow and Ryan Seacrest capping off the end of the week.  Seacrest is fine and good, but he's not the caliber of guest that should be finishing off your "coming out" week. The musical guests suffer a similar fate as the regular ones: the week starts off strong with Pearl Jam and Greenday, but tapers off with Chickenfoot rounding out the Friday show.
The Tonight Show with Jay Leno (2010)
Monday: Guest: Jamie Foxx, Lindsey Vonn/Musical Guest: Brad Paisley
Tuesday: Guest: Sarah Palin, Shaun White/Musical Guest: Adam Lambert
Wednesday: Guest: Chelsea Handler, Apolo Ohno/Musical Guest: Avril Lavigne
Thursday: Guest: Matthew McConaughey, Brett Favre/Musical Guest: Lifehouse
Friday: Guest: Morgan Freeman, Jason Reitman/Musical Guest: Robin Thicke


Star Power: 7/10
Musical Guests: 7/10
Overall:
It seems that people weren't so excited to welcome back Jay Leno so soon after leaving The Tonight Show less than a year earlier. Leno's return to The Tonight Show was less of an event, and more of a "been there, done that" sort of affair as many saw Leno as the bad guy in the demise of O'Brien's incarnation of The Tonight Show.  Jamie Foxx is a great opener, but Sarah Palin lost a lot of her novelty by the time 2010 rolled around. Chelsea Handler is just another late night host, and Matthew McConaughey was still in the middle of his transition between shirtless heartthrob and A-list serious actor. The musical guests are similarly disappointing with Avril Lavigne, Lifehouse, and a pre-'Blurred Lines' Robin Thicke making up the underwhelming lineup.
 Follow @Hollywood_comFollow @CurrentlyJordan