Who Should Be Stephen Colbert's Bandleader?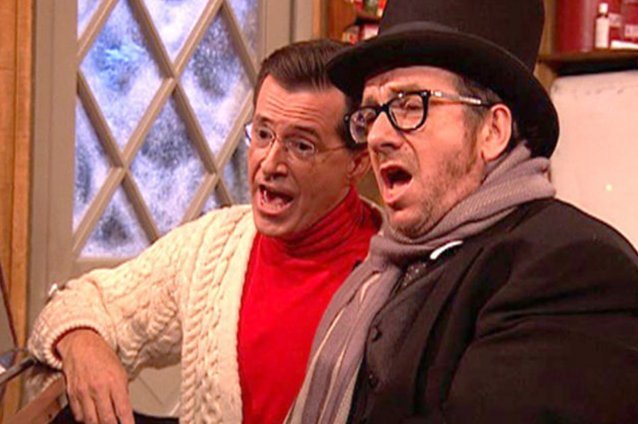 Comedy Central
We've just learned that Comedy Central's resident satirist Stephen Colbert will be inheriting CBS's The Late Show once David Letterman takes his final bow in 2015, but almost as important as the show's new host is the new band leader. Colbert has made a lot of musically gifted friends in his time at Comedy Central, but which ones would make a good fit once the comedian transfers his talents to late night?
Ed Helms
Chemistry is the name of the game when it comes to a good host/band leader dynamic. Thankfully, Ed Helms and Colbert spent years working together in the early days of The Daily Show, and have shown a nice easy comedic flow back and forth. They're clearly still pals, considering the fact that Colbert made a guest appearance as Helms' college buddy on the final season of The Office. There's also the fact that Helms is a talented multi-instrumentalist.

Elvis Costello
While this one may be a bit of a stretch, the connection between the two is more than tenuous. Colbert has a great admiration for Costello, and the two have become good friends thanks to Colbert's show. Costello even sang a duet with Steven during his 2008 Comedy Central special A Colbert Christmas: The Greatest Gift of All! If that wasn't enough, there's the simple fact that Elvis Costello is just really cool. Not run of the mill cool, but old school cool. He's smooth, and has a big presence that won't get drowned out by Colbert's antics. 
James Murphy
James Murphy, the former face of the now defunct LCD Soundsystem, eats, sleeps, and breaths New York, so it would be no problem keeping him in town to do the show. He's also has a lot of time on his hands now that LCD Soundsystem is done and gone. If all that wasn't enough, Murphy chose the Colbert Report for his band's final television appearance. 
The National
These Brooklyn-based rockers would only be a short train ride away from Stephen's new digs at CBS. They've also sang a song on The Colbert Report with the host before, so the two entities are already well acquainted with each other. Plus, The National seems to really get a kick out of adding their moody brand of rock to pop to pop culture. They've created a haunting version of "The Rains of Castamere" for Game of Thrones, and have even covered songs from Bob's Burgers of all places. 
Steve Carell
Both Carell and Colbert are Daily Show alums, and the duo used to host the recurring segment "Even Steven" where they debated topics as irrationally as possible. Beyond the comedy connection, Steve Carell does play his fair share of instruments, though they're not your typical late night fare. You'd be surprised to learn that Carell can play the baritone horn and the fife. Now, are we really going to deprive the world its only chance of having a late night band being led by a fife player? I think not.
Daft Punk
Right?
Riiight?