Why Bender Matters — A Tribute to the Robot of 'Futurama'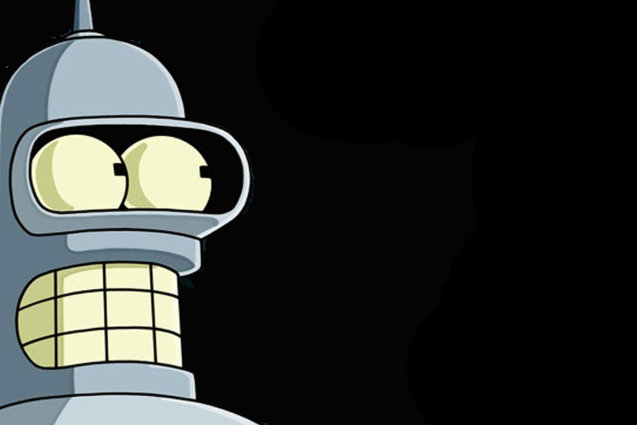 FOX
13 years since Futurama debuted on Fox, television viewers will have to once again say goodbye to one of the greatest characters of all time, Bender. It's painful to part ways with such a remarkable character once, let alone twice. But let's look at what made the girder bender such a special specimen of personable perfection.
He enjoyed his cigars, gambled frequently, drank copious amounts of alcohol, and cavorted with countless hookerbots for only a night. In other words, he was an outstanding citizen. Some critics may say that Bender was a misogynist and a homophobe. Sure, he may have had 50 terabytes worth of porn and called everybody "gay." But that's only because future porn is extremely high definition, and he was only reading what his pinpoint accurate "gaydar" was indicating. Besides, he represented women as the "Gender Bender" in the ring for the Ultimate Robot Fighting Championship, and once had a sex change in order to become a Olympic gold medal winner.
If anything, Bender represents the best of what American has to offer. He's proud member of the growing Latino community, flaunting the "Hecho en Mexico" inscription inside his front plate whenever someone insults his heritage. He proudly sings classic American folk music, but only when there's a magnet on his head. He's also a staunch capitalist — he'll assuredly take anything off anybody's hand using his two hands that he's affectionately called "grabby" and "squeezy" (not to be confused with what we humans call "stealing").
Lastly, Bender possesses ability beyond human understanding. Bender is capable of putting his arms back in place by himself after both of them have fallen off, a talent even the creators of the show can't explain.
The fact is, Bender was too good for the limited minds of the homo sapiens running Comedy Central's programming in 2013. But we all know who will have the last laugh because on 2997, a factory in Tijuana, Mexico will produce a Bending Unit 22 with the serial number 2716057 named Bender Bending Rodriguez, Sr. So up yours, chumps and chumpettes! Until then, you'll have to wait to bite his shiny metal ass.
More:
Hayao Miyazaki Retires
New Explosive 'RoboCop' Trailer Debuts
Top 5 Comedy Central Roast Moments
---
From Our Partners:


40 Most Revealing SeeThrough Red Carpet Looks (Vh1)


15 Stars Share Secrets of their Sex Lives (Celebuzz)