Why Reality TV Show Judges Don't Matter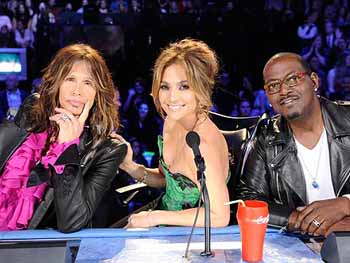 Thanks to the recent defection of Jennifer Lopez and Steven Tyler from American Idol, we are smack dab in the middle of another round of pop culture-obsessed Americans' (least?) favorite game: "Who should judge Idol?" After all, as soon as Charlie Sheen's name enters into the conversation, you know fans are desperate for any shred of casting news. But here's something that hard-at-work casting producers might not necessarily want to hear: Despite all the headlines, fans do not care who judges your show. Period.
And that's what makes this news cycle so frustrating. We sit around for months bandying about names and waiting for networks to finally decide on a celebrity or two. And then, when the celebs start judging, they leave plenty to be desired. Let's face it: J. Lo and Tyler were both abominable judges on Idol. Yes, they were, despite any entertainment value Steven's flowery prose and J. Lo's skin-tight catsuits might have brought to the show. They were personalities, sure, but they never even really judged. (And, no, "Oh, good job, buy my perfume and wait for me to perform my new hit single" or "Garble garble garble sea hag incantation Aerosmith WHEEEEEEE" does not count as judging.) Even worse, they refused to call out performances that were inarguably terrible on the show. (Remember Joshua Ledet and Phillip Phillips' "You've Lost That Loving Feeling"?)  
What's more troubling is we will have to continue to cope with A-list passivity on Idol's bastard step-child The X-Factor, a reality series that decided to overhaul the show by overhauling the judges. After canning Paula Abdul, Nicole Scherzinger, and dreamy host Steve Jones in hopes that its personalities were the reason the show wasn't a ratings juggernaut, the producers hired big-name trainwrecks Britney Spears (against her best interests) and Demi Lovato, not because they have any experience with helping guide people's careers (Britney still isn't even in charge of her own finances), but because you'll tune in to see how they behave. Perhaps instead of upping the star power of the panel, Simon Cowell should have reevaluated the series' format in order to differentiate it from every other singing competition out there (and there are plenty). Maybe with one less celebrity or two. 
Shelling out for A-list judges is nothing but a quick fix. Yes, everyone will tune in to see a live Spears for the first few weeks, but Idol and the UK's X Factor didn't become unstoppable because of their judges. Instead, Idol and X Factor can credit former no-names like Kelly Clarkson and Leona Lewis for their success. Most fans watch singing competitions for the talent — to see little kids with big dreams belt out songs on the stage. If you want proof of this, just look to America's Got Talent, a series that replaced Piers Morgan (a nobody pre-Celebrity Apprentice and CNN) with Howard Stern (a big fat famous person) and saw the ratings actually go down. And you know what? Morgan was a better judge anyway!
That's precisely the danger to hiring high-wattage stars. It was inevitable that J Lo. (and Ellen DeGeneres before her) would be so worried about what her comments towards the fledgling singers would do to tarnish her own reputation that she would do nothing but heap praise on everyone. And, as Cowell proved, the most successful reality judges are the ones who are going to be honest — or at least mean enough to make for good TV. At one point, Cowell knew that it was the contestants that people cared about, not the warm bodies clutching Coca-Cola cups padding out the rest of the live show. And if one of those warm bodies happened to insult one of those contestants — well, even more reason for fans to care. 
It's true The Voice managed to turn this whole concept on its head. Unlike with Idol, TV fans actually do watch the NBC singing series to see Christian, Adam, Cee Lo, and Blake. The talent is there, but mostly to give the judges something to do for two hours. But The Voice has never made any pretense about the (un)importance of its contestants. Commercials, posters, marketing — NBC asked TV viewers to pay attention only to the famous foursome. And we followed suit. But Idol and X Factor — two series that ask viewers to fixate on their contestants for months on end — have trouble balancing both attention to star power and to the anonymous faces. Perhaps you can't have it both. Just see Duets, which continues to flame out despite having Kelly Clarkson on its side. 
Yes, it turns out the people who made Kelly famous on a reality show don't really care to see her star on one after she's become famous. Because fame is not what Idol or X Factor fans care about. So, other than keeping Idol in the press while Ryan Seacrest's roots grow in over the summer, this discussion is totally pointless. People are going to watch Idol or not watch Idol based on the quality of its contestants. If we see singers with great stories who movie us, we will set our DVRs and set our fingers in a flurry of text voting. Sure, Paula's droopiness and Simon's testiness might entertain us while we're watching, but it's simply a fun distraction.
Perhaps every singing competition that fears sagging ratings should focus on true innovation rather than blowing the big bucks on known quantities to sit behind a table. Just like in a courtroom, if America is serving as the jury, we're more interested in the case than the person wearing the robe.
Follow Brian Moylan on Twitter @BrianJMoylan
More:
Dear Britney: Doing 'The X Factor' Is a Really Bad Idea
Charlie Sheen on 'Idol': 'I Could Give These Kids Guidance Without Leading Them to Suicide'
'America's Got Talent' Ratings: Howard Stern Casting Didn't Quite Go as Planned