Will Dr. Valentin Narcisse Be Alive After The 'Boardwalk Empire' Season Finale?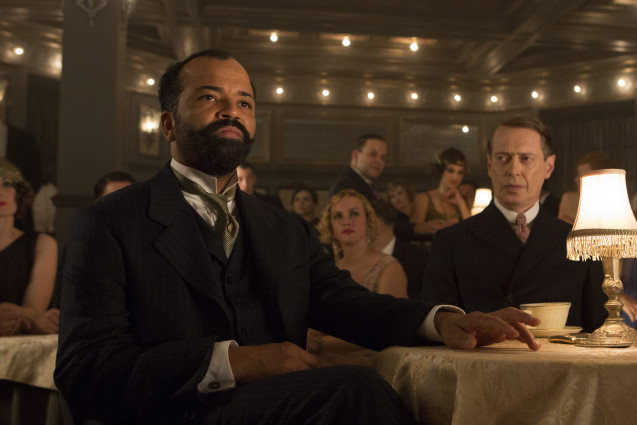 Craig Blankenhorn
Boardwalk Empire's newest villain is a cunning, calculating and manipulative character in the world of organized crime. Dr. Valentin Narcisse (Jeffrey Wright) showed up toward the beginning of season four when one of his men never returned from a trip to the boardwalk. Since then, the good doctor has been trouble.
He has muscled heroin into the Boardwalk Empire  world, stomping on Chalky White's territory, which ultimately infringes on Nucky Thompson's territory. These crime bosses are like kings, so anytime they lose part of their kingdom, it's war time. Turf disputes, murder and the affection of the beautiful Daughter Maitland (Margot Bingham) are at stake in the season finale. Narcisse is no slouch. He may appear like some intellectual incapable of hurting others, but he has an army of muscle that scared Chalky (Michael Kenneth Williams) and Daughter into hiding out in the penultimate episode.
Will Narcisse meet his end? That is hard to say. In past seasons, those who crossed Nucky (Steve Buscemi) were killed. Bobby Cannavale played Gyp Rosetti in season three, threatening the life and livelihood of Nucky. The season three finale ended with Gyp's murder. If you cross Nucky, you meet your maker. Narcisse, however, has not crossed Nucky directly. Their beef is a result of Nucky's friendship and business partnership with Chalky.
There is a chance Dr. Narcisse could make it out of this season alive. A lot can happen in the finale. Chalky doesn't seem to have the manpower to win a war with Narcisse. Why else would Chalky be hiding? The second Narcisse threatens Nucky, the whole game changes. If and when that happens, Dr. Narcisse's days are numbered.