'X Factor' Contestants Emblem3, Jason Brock, and More Discuss Dating, Homophobia, and Demi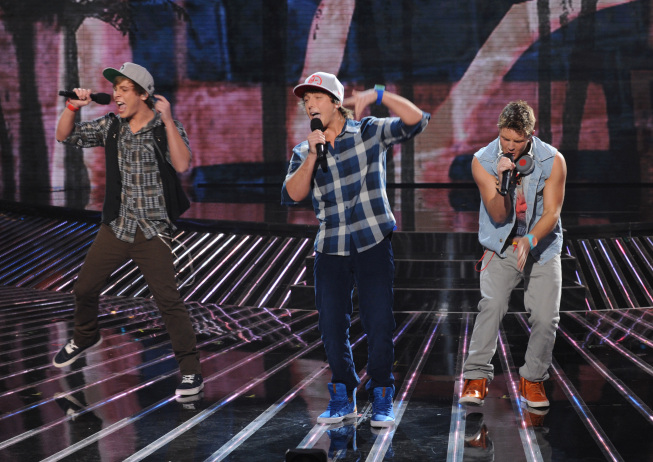 Has it been a year already? Yes, yes it has. Because as I sit here tonight, my eardrums are ringing, my nostrils are filled with staged gun smoke, and my soul is covered in glitter. And that, young homies, can only mean one thing: The X Factor live shows have returned! Though host Steve Jones was nowhere to be found (I searched for hours), some old familiar X-Tropes had the crowd feeling right at home: L.A. Reid's chair-dancing, Pepsi cups, talented contestants returning from the dead. It was, as Britney Spears would say, amazing. (Drinking game alert: Every time Brit calls something amazing… well, you know what to do. Do it because I can't.)
After the show, Hollywood.com sat down with the contestants to chat about the show, and to say that some of them surprised us (well, me) would be an understatement. Jason Brock had plenty to say about gay rights and homophobia, while CeCe Frey and Jennel Garcia did NOT seem happy about the direction mentor Demi Lovato was taking them in. Also, this Jersey girl was pleased to find out that the lads of Emblem3 don't ONLY dig California girls. In fact, they said chicks from Jersey are "hot." (Someone Google if they're legal. I don't want to know.) Read what they had to say below:
Emblem3, on One Direction comparisons:
Keaton Stromberg: I can't wait to meet them [on Thursday's show]! I think they seem freakin' awesome.
Drew Chadwick: They seem like they know how to have a good time.
Wesley Stromberg: Yeah, they seem pretty cool, and I will ask them how this whole process worked for them. I'd love to.
Drew: I heard they know how to party! We've been cooped up in that mansion for weeks so we need to let loose!
On staying humble, despite being favorites:
Wesley: Constantly, everyone is reminding us to not let this get to our heads. We remind each other.
Drew: We're always keeping each other in check. It's really important. It's like the most important thing.
On their relationship status:
All: Single, we're single. Very single!
On only liking California girls, and their celeb crushes:
Drew: We like all sorts of girls!
Keaton: [My celeb crush] is Zooey Deschanel! I love her.
Drew: Mine is Gandhi or Jack Johnson, either one.
Wesley: I honestly don't have a celebrity crush, is that okay? Or actually I should say Demi? I might as well stir the pot!
Diamond White, on her chances coming back:
Diamond: It feels awesome being back, and just knowing that I got this second chance — I'm pretty much the Melanie Amaro of this season, so hopefully I end up the same place she did — winning.
On whether or not she saw her return coming:
Diamond: I read on the Internet that Simon [Cowell] said there wasn't going to be a wild card. And when I was in the competition, I thought the wild card — if there was one — was going to be Jillian [Jensen], because Jillian is amazing. So just knowing that I am the wild card this season kind of shocks me, because people believe in me.
Jason Brock, on why Simon doesn't enjoy his act:
Jason: First of all, I thought my performance was fabulous. A really good, heartfelt, solid performance that I actually thought would move the audience and the judges. But then, to my surprise, when was I finished singing and I stood there for the judges' feedback, I got a mixed reaction from Britney, I got a negative reaction from Demi, and I got a very negative reaction, mostly, from Simon… He said that I was dressed like a waiter at an Italian restaurant. He did say that he liked me, he just thought that I was being taken in the wrong direction, like Demi also had said. I've heard that two times now. But I'd really like to see what America thinks, because if America doesn't vote me in the bottom, than I think that Simon's opinion is wrong. If I see that America feels the same way, then I think that Simon might be on to something. But then again, maybe not. Something that I think about is gay performers, sometimes the way that we dress may not be as mainstream. It's a little too fabulous, or whatever.
On being pigeonholed as the gay performer:
Jason: I don't mind being the gay performer. I'm totally comfortable with that. In fact, I love it. But, I just wonder if that's what it is that [Simon] doesn't like… I'm proud to be a representative of the gay community, and I do like taking that role. I have things I want to fight for, too, like marriage equality. That's so important to me. Obama was just elected, that is also so important to me, mainly because of that issue. Because I have a boyfriend who lives in Japan, and if we don't have marriage equality, we can never get married and be together, on a federal level. It has to be federal in order for that to happen. People don't realize that, so that's something I'd like to talk about, too.
CeCe Frey, on her song choice:
CeCe: I thought it really was fitting. Was it the original arrangement I wanted to do? No. I came up with a different arrangement at first, and it was vetoed. In this competition, there is a team around me that knows a lot more about this stuff than I do, so I'm doing my best to take direction. Maybe I'm trying too hard to please the people around me, and not myself.
InTENsity survivor Arin Ray, on his relationship status:
Arin: No girlfriend right now, but that could be in the works… you never know. There's a lot of beautiful women on this show.
On keeping up with Season 1 contestants: 
Arin:
I talk to pretty much everybody. I hung out with Melanie [Amaro] the other day. I talk to Marcus [Canty] and Astro. [Marcus is] doing really good. His EP is actually coming out Jan. 22, so I can't wait to hear that. My boy Astro, he's doing really good, he's like a brother to me. And Rachel Crow, that girl is doing big things. I still talk to the members of InTENsity, every day. They're 100 percent behind me in everything that I'm doing, and it's cool to see that support.
Jennel Garcia, on negative feedback:
Jennel: No one has really said anything bad about my voice, just my appearance. Some people love my hair, and some people hate it. I hated it at first… I'll admit it, I hated it a lot. I wanted to hide in a corner! People are [also] saying, "You look fat in that!" … But I am not going to have people bring me down! I am not here to be the skinny kid. I am Puerto Rican. I will never be tiny.
On her new "Demi" hair:
Jennel: Before the show I wanted to cut my hair, and I have had bangs before. I wanted to bring them back, but then I noticed that Demi brought hers back. People tell me I look like Demi — I don't think I do. So I don't need to look like her more. But then she cut my hair in bangs! I knew people were going to say I looked like her. But she is beautiful, so I don't care.
Follow Shaunna on Twitter @HWShaunna
[PHOTO CREDIT: FOX]
MORE:
'The X Factor' Recap: Who Lived? Who Died?
'X Factor': Khloe Kardashian Odom, Mario Lopez Announced as Hosts
'X Factor' Scoop: Simon Cowell Compares Eliminated Diamond White to Jennifer Hudson

Kim Kardashian: 'I've Lost 10 lbs'
(Celebuzz)