'X Factor': Emblem3 on Demi Lovato's Crush: 'She Has a Shrine'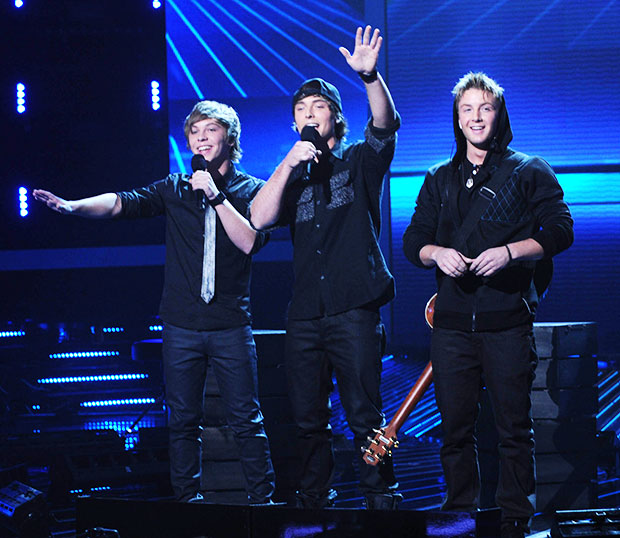 After last week's highly unexpected elimination of the soulful tatted-up softie, Vino Alan, the Top 6 contestants of the X Factor are imitating Tate Stevens and "Livin' On a Prayer," hoping to not get surprisingly eliminated on Thursday night. Even though the polarizing CeCe Frey didn't get sent home, she — and her mysterious reappearing leopard spots — got a chance to prove she is packing… some vocals. (OMG, get your mind out of the gutter people!) Once again, girls were near-hyperventilation watching Emblem3, wishing Wesley a "Happy Birthday" during commercial breaks (surprisingly, no panties were thrown on stage), while Demi Lovato had a change of heart toward Fifth Harmony after they performed her single "Give Your Heart A Break." Tate — unlike Mr. Romney — was able to win back all of those red states with some Garth Brooks, and Carly Rose Sonenclar made Justin Bieber fans proud, giving them plenty of reasons to love the up-and-coming teen phenom.
After the show, Hollywood.com chit-chatted with the remaining contestants to get the low-down about their unplugged performances, taking on the Pepsi Challenge, and singing a second song picked by America. Carly Rose talks about Britney Spears' genius pop-star-approved strategy to win the Biebs' fan base (golf clap), Emblem3 opens up about Simon Cowell's own tactical move to follow One Direction's footsteps (they seem to think he may know a thing, or two), and Tate talks plans of spending the $5 million recording contract that may be coming his way. (Of course, if Ms. Broadway loses her reign at No. 1.) Check out what beans they spilled below:
Carly Rose Sonenclar, on Justin Bieber fans reaction to her performance:
Carly: [I'm nervous] a little bit! I'll have to go check Twitter in a little bit. I don't really know what's happening right now, but hopefully it's good. His fan base is really dedicated, so it'll be interesting to see what they think.
On Britney's strategy for her to win Justin' s fan base:
Carly: I think that's a good strategy. Having them on my side would be really helpful.
On Simon turning Emblem3 into another One Direction:
Carly: I think they're really different than One Direction, and that's good because we don't need another One Direction. I don't think Simon would try to do that because he's a very smart person, but obviously One Direction worked out well.
Emblem3, on celebrating Wesley's birthday this week:
Drew Chadwick: We are going to take shots of Pedialyte.
Keaton Stromberg: Pedialyte!
Wesley Stromberg: yeah, we are such rebels.
Keaton: Or wheatgrass, and get severely wasted.
Drew: We need the electrolytes.
On Simon turning them into another One Direction:
Wesley: Honestly, we talk to him about that.
Keaton: We have seen what he's trying to do, and even though he's had a lot of success in the show, I think what he's trying to do is…
Drew: Simon knows what works, and has a good strategy. Even if that means us taking some heat for some of the songs, it's going to reach out for bigger audience and get us more votes, and that's what he's trying to do.
Wesley: He's made a path and it's easier to go through that path until we are done with the competition.
Keaton: You get what you get, and you don't throw a fit.
Wesley: It's all about reaching out, and gaining fans. That's a good strategy.
On Demi possibly crushing on them:
Drew: You know what it is… she has one of those old-school crushers. The only way she knows how to flirt is by being mean. She just wants the attention.
Keaton: She has a shrine.
Drew: She has a locket with Wes's face on it. You should see her closet.
Keaton: She has a shrine made out of bubblegum.
On Simon compromising to let them have some facial hair:
Drew: You know, I actually talk to … his right-hand man about that. I was like, "Dude, I don't want to be baby-faced. I want to be a man. Okay?" He said, "We were never mad about your scruff; we just didn't want you to have a beard." When it was no shave November, I hadn't shaved in like two weeks, and it was literally a full beard. It was beard-ish [and] I liked it, but it was too much. We finally found a happy compromise.
Tate Stevens, on never going back to his blue-collar jobs:
Tate: I don't think I'm ever going back to paving roads. God, I hope not. It is a great job. It helped support my family for the last going on 10 years. It's a great job, so I can't complain about it, but it is definitely not me. It is not what I want to do. So I am going to run with this music, and if I go home tomorrow, I go home tomorrow. I have a "fall forward" mentality, and I am going to fall forward. I am not going back.
On how he'd spend the $5 million:
Tate: It will be great if I win and I'm going to buy some really dumb stuff like a new Harley and stuff I don't need. I have a new Harley now but I'll buy another one just because. I'll have two. Why not? I can do it.
On spending 15th wedding anniversary this Friday with his wife:
Tate: She's got to leave [the contestant's mansion] at like three in the afternoon, so we will have breakfast and kind of chill out in the morning.
CeCe Frye, on Britney praising her 'Part of Me' performance:
CeCe: If the queen approves, then I'm down with it. So, yeah that felt amazing. I feel like Britney doesn't always love what I do, so to hear that from her it feels great.
On getting hated on by the judges and the audience:
CeCe: I hear crap on the Internet all of the time. I shouldn't read it, but I do because I'm curious and I want to see what, like, people on the outside think. You know, people on the outside hate on me just as much as these judges do.
On Simon's weekly brutal criticism:
CeCe: I don't know what to do to try and please that man, so I'm not even going to try.
[Image Credit: Ray Mickshaw/Fox]
More:
The X Factor Recap: Shine Bright Like a diamond (White)
The X Factor Recap: These Girls Are On Fire
X Factor: Diamond White, Emblem3, Tate Stevens, and More Talk Britney, Tattoos, and Stripping

Kate Middleton Pregnant: A Look Back at Famous Royal Baby Portraits (PHOTOS)

Pregnant Kate Middleton Leaves Hospital After Four-Day Stay