You Can Now Watch The Full 'Happy Endings' Halloween Episode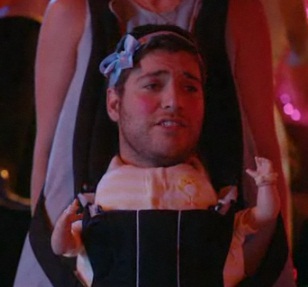 Halloween in an ordinary year is a force to be reckoned with as is. But Halloween in the Year of Penny is bound to be no holds barred. On Wednesday night, Oct. 26, Happy Endings is airing its Halloween episode (will they bump things up to a triple Snooki this time?). However, if Wednesday is just too far away for you to subdue your Happy Endings cravings, then you're in luck: YahooTV is streaming the full Halloween episode, and you can watch it right here (and if your appetite is that big, you might even give the multi-dinnering Max a run for his money).
This year's episode, "Spooky Endings," will see Jane (Eliza Coupe) and Brad (Damon Wayans, Jr.) involved in the horror tale of house-sitting in the suburbs, while Dave (Zachary Knighton), Alex (Elisha Cuthbert), Penny (Casey Wilson) and Max (Adam Pally) all have their own misadventures at a costume party. As this is their first Halloween since the breakup, Dave and Alex are finally free from the bounds of joint costumes. As such, both embrace their own individual (and out of touch) flares: Dave wears an Austin Powers costume, while Alex dresses as Marilyn Monroe. Meanwhile, Penny and Max team up once more to form the joint costume of a mother and her baby…to likely uncomfortable results.   
Happy Endings airs Wednesday nights at 9:30 p.m. ET/PT on ABC.