Dish and AMC's Dispute Spawns Creative Video Contest: They Fight, We Win

While the disputes between channels like AMC and cable providers like Dish Network can be droning, boring, and downright bothersome, they can also be a veritable playground of creativity and hilarious, gutsy jabs. As we've seen DirecTV squabble with Viacom, and DirecTV squabble with the CW (man, they squabble a lot), it all starts to feel a little hopeless. Now, Dish Network and AMC are still mired in a stalemate, leaving Dish subscribers without the channel where Story Matters, but hey, at least AMC's got jokes. 
The network responsible for Mad Men, Breaking Bad, and The Walking Dead, is calling on cable customers (and presumably AMC fans) to create their own videos to dispute the, er, dispute. Participants submit video reactions depicting what they would react if their cable provider suddenly dropped AMC, and if minor internet fame wasn't enough, they're also offering up a cash prize for the winner. Lord only knows what ridiculousness will come out of this prompt, considering the fact that AMC's latest protest video came in the form of a zombie apocalypse taking over Manhattan with the tagline "Zombies don't belong here/ Put them back on TV."
And while this whole thing is probably giving you a headache, consider this: every time cable networks and cable providers fight, these days, something awesome and hilarious comes our way. 
1. AMC vs. Dish: Zombie Experiment in New York
No
Walking Dead
for Dish Network, you say? Well, how about we unleash a legion of them on the unsuspecting (and usually relatively unmoved by strange instances) New Yorkers. Yeah, that'll
learn 'em.
2. AMC vs. Dish: Oh Dear God, It's Walter White
And when flesh-eating zombies don't work, just send in Walter White (Bryan Cranston), king of the most realistic terror-filled universe you've ever known on television. AMC offered the Breaking Bad premiere online — something the network rarely does with full episodes — to Dish subscribers who've been left out. They advertised it using this haunting image. (Okay, well the Breaking Bad promotion came earlier, but White's still far more menacing.)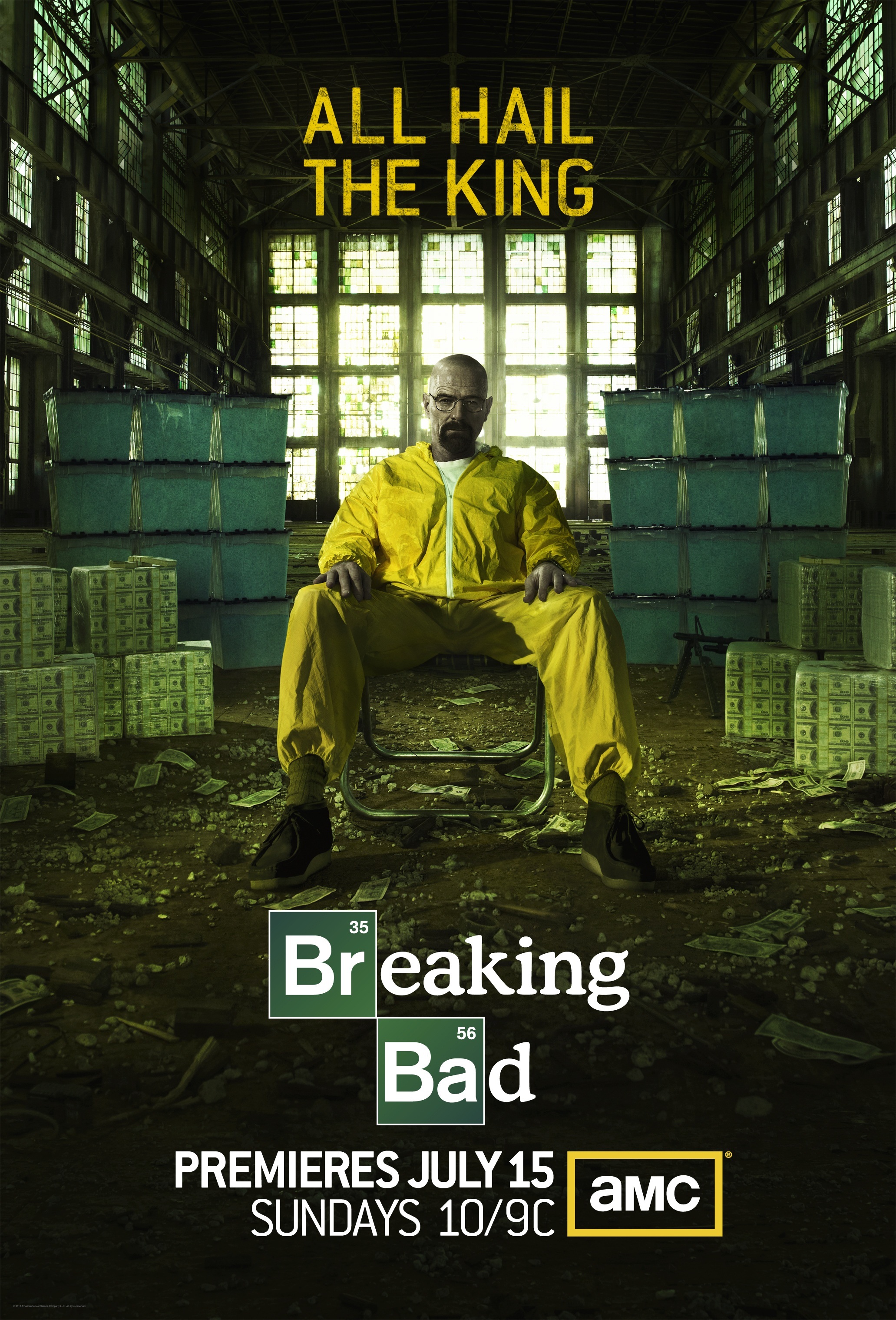 3. Viacom vs. DirecTV: Don't Let Cartman Get a Satellite Stuck Up His A**
There's nothing like using a classic joke and DirecTV's own advertising campaign against them to hilarious perfection. Who knew Cartman's age old satellite probe joke would prove so incredibly apt for this crass, surprising, hilarious ad?
4. CBS vs. ABC: Now Presenting CBS' 'Dancing On the Stars' followed by 'Postmodern Family'
Alright, so this wasn't cable network versus cable provider, but the tongue-in-cheek kick in the pants sure is along the same lines. CBS released an actual press release announcing its fake lineup of new series, all direct, hilariously sarcastic rip-offs of ABC series during the networks' dispute over Glass House and its supposed trade secret infringement on CBS' standby Big Brother. Eventually, Glass House did air, but this press release probably left a bigger impact (see: major increases in office giggling) than the "copycat" show. CBS ANNOUNCES DEVELOPMENT OF "DANCING ON THE STARS," AN EXCITING AND COMPLETELY ORIGINAL REALITY PROGRAM THAT OWES ITS CONCEPT AND EXECUTION TO NOBODY AT ALL
Los Angeles, June 20, 2012 – Subsequent to recent developments in the creative and legal community, CBS Television today felt it was appropriate to reveal the upcoming launch of an exciting, groundbreaking and completely original new reality program for the CBS Television Network.
The dazzling new show, DANCING ON THE STARS, will be broadcast live from the Hollywood Forever Cemetery, and will feature moderately famous and sort of well-known people you almost recognize competing for big prizes by dancing on the graves of some of Hollywood's most iconic and well-beloved stars of stage and screen.
The cemetery, the first in Hollywood, was founded in 1899 and now houses the remains of Andrew "Fatty" Arbuckle, producer Cecil B. DeMille, Douglas Fairbanks, Jr., Paul Muni, Benjamin "Bugsy" Siegel, George Harrison of the Beatles and Dee Dee Ramone of the Ramones, among many other great stars of stage, screen and the music business. The company noted that permission to broadcast from the location is pending, and that if efforts in that regard are unsuccessful, approaches will be made to Westwood Village Memorial Park, where equally scintillating luminaries are interred.
"This very creative enterprise will bring a new sense of energy and fun that's totally unlike anything anywhere else, honest," said a CBS spokesperson, who also revealed that the Company has been working with a secret team for several months on the creation of the series, which was completely developed by the people at CBS independent of any other programming on the air. "Given the current creative and legal environment in the reality programming business, we're sure nobody will have any problem with this title or our upcoming half-hour comedy for primetime, POSTMODERN FAMILY."
"After all," the spokesperson added, "people who live in glass houses shouldn't throw stones."
Are you enjoying the hilarious outcomes of all this feuding? Or are you tired of the nonsense?
More:
Season 5 Premiere of 'Breaking Bad' To Stream Online for Dish Subscribers
DirecTV Drops Viacom Stations: Comedy Central, MTV, and More