'You're Next' Trailer: A Different Kind of Horrific Family Getaway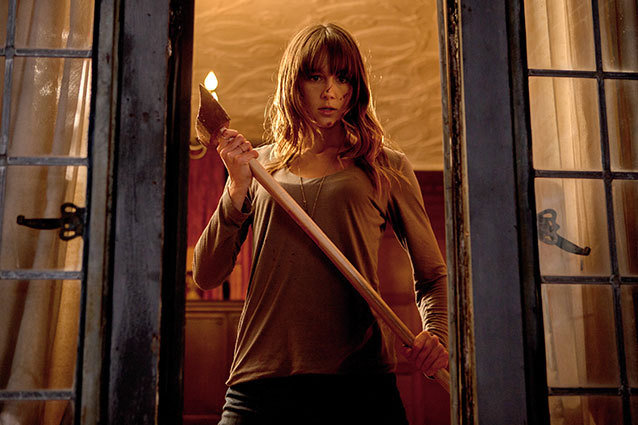 Let's be honest, no matter how much you might love your family, any getaway, gathering, road trip, holiday, or vacation with them is bound to be a little horrifying at times. Of course, your family was never hunted in your own home by a gang of arrow-wielding lunatics wearing terrifying animals masks as they try to pick you off, one by one. Or, hey, maybe they have. Different families have different traditions. 
RELATED: 'You're Next' is a Horror Buff's Dream Come True at SXSW 
The first preview for the long-in-the-works horror flick You're Next has hit the web, and much like those unsettling teaser posters, this should give you sufficient nightmares until it arrives in theaters on August 23. While the clip is being touted as a full trailer, it's almost more of a teaser, considering its focus on the sheer horror aspect of the home invasion movie. But despite being as terrifically scary and often times downright upsetting and unnvering as it is, there's also more Cabin in the Woods-esque in-joke humor than this preview would leave you to believe. 
RELATED: 'You're Next' Teaser Posters Arrive Just in Time To Ruin Your Spring 
The trailer also (wisely) leaves out a song that plays repeatedly at key points in the movie, and focuses on the ensemble as a whole. But, if you peer your eyes from the safety of the palms of your hands, try to keep a look out for breakout star Sharni Vinson (pictured), who kicks some serious ass in the gruesome, but surprisingly great, moviegoing treat. Lionsgate was wise to pick this one up, as the festival favorite has got all the makings of a sleeper horror hit.
RELATED: 'Evil Dead' Takes SXSW on a Gory, Grisly Ride
Watch it below, if you dare. And maybe reconsider moving your next family outing to a less remote location. 
[Photo credit: Corey Ransberg/Lionsgate]
Follow Aly on Twitter @AlySemigran
---
You Might Also Like:


15 Oscar-Winning Nude Scenes


10 Insane 'Star Wars' Moments You Didn't Notice