Slippery When Wet: 12 Sexy Rain Scenes from Movies — GALLERY
Admit it: sometimes things are just better when they're wet. Slip 'n' slides, thirst-quenching beverages, and yes, even the occasional romantic moment or two. Aside from the lubrication aspect of the wee moisture droplets, there's also a sense of abandon that comes with saying "f**k it, let's do this" when the rain is pouring down around you.
RELATED: 'The Host': A Guide to Evading All Body-Invading Aliens
Think about some of the most epically sexy moments in movies: Ryan Gosling and Rachel McAdams share The Kiss to End All Kisses in The Notebook under a deluge, Mickey Rourke and Kim Basinger got wet 'n' wild in some back-alley sexytimes during 9 1/2 Weeks, and who could forget the sexy at-last kiss between Holly Golightly and her Breakfast at Tiffany's paramour? 
RELATED: 'The Host"s Saoirse Ronan Ain't No Bella Swan
Such is the case of the films we present before you: a little rain never hurt anybody, and in this instance, we think it actually helped the situation. Think about it: what's more boring than a movie make-out? One without rain, of course! So in honor of the sexy alien times going on in the newest Stephenie Meyer mega-hit The Host, we've compiled a list of our favorite, legitimately sexy moments in water-related history. Who knew there was such variety living in these downpours? If you weren't aware, you are now: sometimes sexy is better with a little drizzle.
GALLERY: 12 Sexy Cinematic Rain Scenes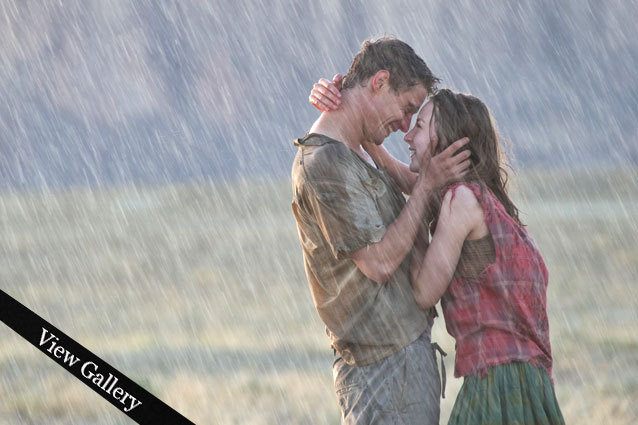 Follow @Alicialutes on Twitter
[Photo Credit: Open Road Films]
---
From Our Partners:


40 Most Revealing See-Through Red Carpet Looks (Vh1)


33 Child Stars: Where Are They Now? (Celebuzz)