'300' Director Zack Snyder Tackles War Drama 'The Last Photograph'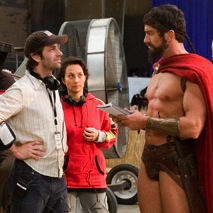 Zack Snyder has the reverse career of most directors. Unlike those filmmakers who cultivate their skills on smaller films and grow, grow, grow to big Hollywood blockbusters, Snyder catapulted on to the scene with the remake of Dawn of the Dead, followed by a string of comic book and effects-driven tentpoles. 300, Watchmen, Sucker Punch and the upcoming Superman reboot, Man of Steel—emotional, perhaps, but only because the thumping base and spectrum of colors being hurled at your face causes you to shed a few tears.
But now the CG wizard has is turning his eye to a project that couldn't sound more different then the rest of his filmography: the Afghan war drama The Last Photograph. Originally set to produce the film for Girl with the Dragon Tattoo director Niels Arden Oplev, Snyder is now in a position to helm the film himself. Details on the story are scarce, but earlier reports allude to a mysterious photo that sends the two main characters on a journey through a war-torn Afghanistan. Sean Penn and Chrsitian Bale were originally set to play the two leads, but their involvement is now up in the air.
This is the right move for Snyder, who has a deep affection for cinematic artistry but never quite seems to squeeze any real drama out of his characters. With a story that is inherently visual but grounded in a troubling reality, he may finally have a film on his hands that legitimizes his other talents. Or it could be a great excuse for explosions and epic battle scenes. Either way, it's a project to watch.