7 Psychotic Roles from 7 Stars of 'Seven Psychopaths'
We all go a little mad sometimes. At least, so says Norman Bates in Alfred Hitchcock's Psycho.
Though one of cinema's preeminent madmen hit upon a fundamental truth, the fact is that there are those who occupy Crazytown with far more frequency than just "sometimes." Martin McDonagh's upcoming film Seven Psychopaths gathers a cadre of perpetually unhinged characters and makes the bold, if somewhat ill advised decision to house them all in one story. What makes this insane undertaking work so well? It may have something to do with the fact that the assembled cast, collectively, has extensive experience in the area of filmic lunacy. Here's a breakdown of our favorite psycho roles from these psychos' past.
Colin Farrell – Daredevil
Though far from the best example of cinematic adaptations of comic book heroes, 2003's Daredevil does provide adequate showcase for Colin Farrell's ability to play unstable antagonists. In the film, Farrell plays Daredevil's (Ben Affleck's) nemesis Bullseye, whose super power is his staggering marksmanship that allows him to transform any object into a weapon; so yeah, basically a more resourceful version of Hawkeye. The amount of maniacal glee with which Farrell inhabits Bullseye is one of the film's few enjoyable elements. If nothing else, he finds inventive new use for airline peanuts.
Sam Rockwell – Confessions of a Dangerous Mind
In Seven Psychopaths, Sam Rockwell is his trademark impressive as a man who makes his living kidnapping dogs just to return them to claim the inevitable reward. The character is far more complicated than that paltry description, which calls to mind the layered lunatic Rockwell played in George Clooney's Confessions of a Dangerous Mind. Supposedly based on a true story, Rockwell plays a game show host who moonlights as a government assassin. Whether truth or the manifestations of a kook, no one makes sociopaths as compelling as Rockwell.
Woody Harrelson – Natural Born Killers
Remember when Woody Harrelson was best known as the lovable dope bartender on Cheers? Oh how far we have come. Since the close of that iconic TV bar, Harrelson has established himself as one of the most talented leading men in the biz, and one capable of a fantastic range of characters. He's played cowboys, zombie hunters, and real-life smut peddlers.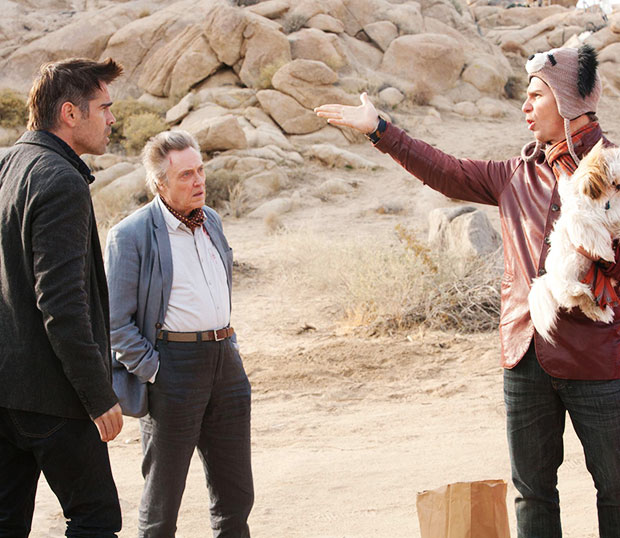 But no role allowed him as much crazed freedom as his turn in Oliver Stone's Natural Born Killers. Harrelson plays one half of a disturbed, mass murdering young couple that becomes celebrities in the media for their homicidal rampage. Makes us want to take a shower just thinking about it.
Kevin Corrigan – Some Guy Who Kills People
Kevin Corrigan is a character actor in the truest sense of the term; one of those performers whose face you always recognize even if his name doesn't leap immediately to your mind. So you're always saying to yourself, "oh hey, that guy." Well last year, that guy took on the role of Some Guy Who Kills People. Corrigan plays Ken Boyd, former asylum inmate. The townspeople come to believe that Boyd balances his screen time between scooping out ice cream and doling out delicious vengeance on those he deems at fault for his derailed life. You might say his road to recovery was a bit rockier than most, except don't say that at all.
Tom Waits – Bram Stoker's Dracula
It's not often that the transition from musician to actor yields a wealth of memorable roles, but such is certainly the case with singer-turned-thesp Tom Waits. The gravely voiced crooner has proven time and time again his natural screen presence and timing. In 1992, Waits got the chance to take on one of literature's most notable loons, Renfield, in Francis Ford Coppola's adaptation of Bram Stoker's Dracula. What's so fantastic about Waits' portrayal of Renfield, apart from his Eraserhead haircut, is how incredibly genuine he is in his madness. You truly believe the savory pleasure he derives from the consuming of each and every insect.
Michael Pitt – Murder by Numbers
Michael Pitt found recent resurgence on HBO's Boardwalk Empire, so he proved to be a welcome sight in McDonagh's film. However, he's no stranger to playing complete whackjobs. In fact, one of his earliest starring roles was as the troubled teen Justin Pendleton in Murder by Numbers. Pitt plays one of two incredibly smart high school students who, along with Ryan Gosling, commit the perfect murder just to see if they can. What makes him so unsettling here is that he essential destroys another human life to fend off boredom; apparently never having heard of videogames.
Christopher Walken – The Rundown
Of all the psychopaths in Martin McDonah's new movie, the one who posed the biggest challenge in terms of this list was the legendary Christopher Walken. He's played so many mentally unbalanced characters throughout his celebrated career that choosing just one was a maddening task. But his turn as the villainous Hatcher in Peter Berg's The Rundown is more or less a hilarious and entertaining tribute to the nuttiest bad guys he's ever inhabited. It is the epitome of Walken's signature blend of humor and menace, and the tooth fairy rant is one of The Rundown's greatest moments.
Follow Matt Patches on Twitter @misterpatches
[Photo Credit: CBS Films (2)]
More:
Colin Farrell Talks 'Seven Psychopaths' and Exposing Movie Violence
TIFF 2012: 7 Reasons 'Seven Psychopaths' Is One to Watch