8 Little Known Facts About 'A League of Their Own'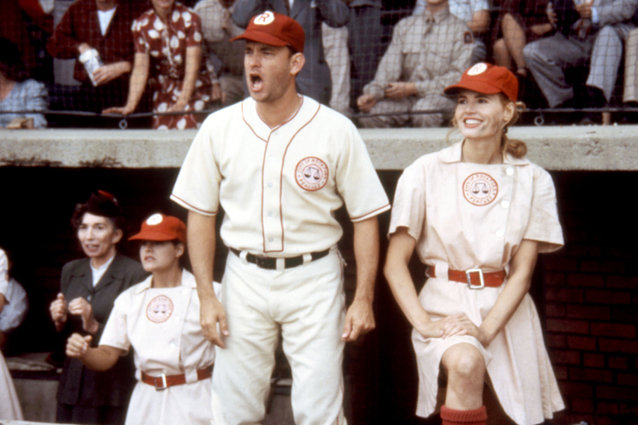 Columbia Pictures via Everett Collection
You know Kit could never lay off the high ones. You know Stilwell Angel would do anything for a chocolate bar. You even know that there are no men in this country who haven't seen All-The-Way Mae's goods. But do you know everything about the 1992 baseball masterpiece A League of Their Own? School yourself with our eight little known facts before reliving the rise and fall of the Rockford Peaches on Netflix Instant.
1. Dottie Hinson was originally set to be played by Debra Winger. Winger and director Penny Marshall butted heads creatively (there are also reports that she pulled out when Madonna was cast), so Geena Davis was an 11th hour replacement.
2. Alice Gaspers's grotesque bruise — the one Jimmy Dugan gleefully takes a picture of — is a real injury that actress Renée Coleman sustained during filming. In fact, all the bumps and bruises that ended up in the final cut were 100 percent real. Girls? I'd say we've got ballplayers.
3. Lavonne "Pepper" Paire-Davis, the inspiration for the League's Queen of Diamonds Dottie Hinson, passed away in 2013. She left behind a legacy that includes 10 full seasons in the All-American Girls Baseball League, a memior fittingly titled Dirt in the Skirt, and a really boss nickname.
4. The home of former Chicago Tribue owner Robert McCormick served as Mr. Harvey's mansion in the film. It's now a museum, so you too can saunter around the grounds like Jimmy Dugan. Though, most likely, you won't be quite as drunk when you do.
5. Penny Marshall told Bob Costas on Costas at the Movies that she "wouldn't read any actress" until she'd proved she could play ball. Demi Moore had the skills but couldn't take the role because she was pregnant. "Bruce literally screwed her out of the part," Marshall indelicately put it.
6. A short-lived TV series based on the movie briefly saw the light of day in 1993, with nearly all the roles recast. We loved you in Christmas Vacation, Sam McMurray. But you can't fill Tom Hanks's cleats.
7. Geena Davis has a 140 IQ, meaning that when Doris asks if Dottie is "a genius or something," Davis could have confidently answered "yes."
8. Remember that crackling sexual tension between Jimmy and Dottie? The cutting room floor is home to a few deleted scenes that would have completely changed the second half of the movie, particularly shedding light on Dottie's snap decision to leave the League. Kit is grating, to be sure, but we knew she couldn't have gotten that far under Dottie's skin. What would Ms. Cuthbert have to say about this?