'A.C.O.D.' Can Resonate with Actual A.C.O.D.s
A.C.O.D. reunites funny guy Adam Scott with current Parks & Rec co-star Amy Poehler and Party Down's Jane Lynch to create a sarcastic and realistic rom-com dealing with this generation's detached views of marriage and divorce.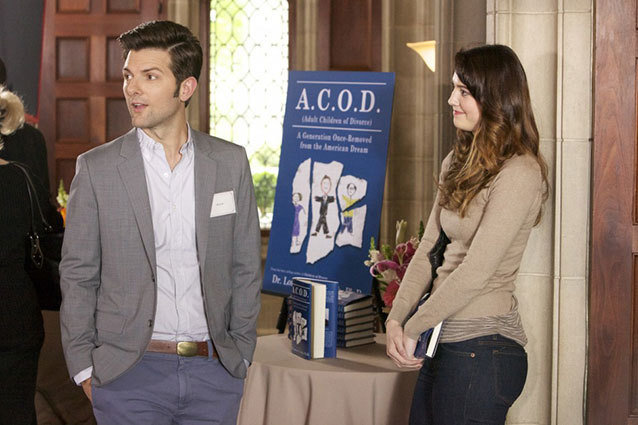 The Film Arcade
Carter (Scott) is in his thirties when he realizes that what he thought had been therapy post his parent's separation was actually an author penning a book about children of divorce. Shenanigans ensue and eventually another chronicle of the same type is released about the kid-subjects as they enter their adult lives. Per usual, the film ends with a wedding and everyone's happy (ish.) The real question is: just how true does this hold to those who actually are the offspring of divorced parents? Not every situation is going to be as extreme as the one portrayed in A.C.O.D.—with Carter's parents virtually ruining his childhood—but his issues are somewhat universal to youngsters who witnessed their parent's marriage crumbling.
Relationship-wise, Carter is hesitant to enter into a true commitment with his current beau (Mary Elizabeth Winstead) and this is attributed to the wayward one that was held between his parents Hugh (Richard Jenkins) and Melissa (Catherine O'Hara).
When problems arise and his mother and father, who were once estranged from each other, begin a sexual relationship again, Carter runs away rather than dealing with it. This can also be looked at as a manifestation of his desire to run from any sort of confrontation because of the intense arguments he witnessed as a child.
Most situations like Carter's don't end with everyone coming together happily and gracefully, but A.C.O.D. definitely resonates with those actual adult children of divorce.