Adam Sandler Is Going to Be In an Actual Movie, Without S**t Jokes or Anything!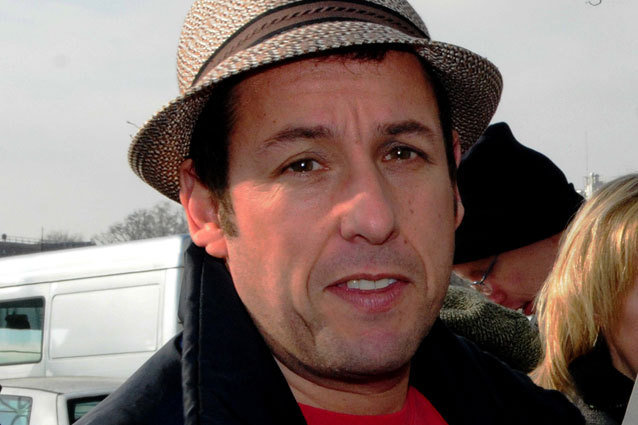 WENN
Every once in a while, in your occasional consideration of the human entity that is Adam Sandler, you'll happen upon the dark crevasses of your cinematic memory where the likes of Punch-Drunk Love exists. The Paul Thomas Anderson masterpiece showcased something that nobody expected of Sandler: acting. Real acting. An emotional, dramatic, human performance that didn't involve gibberish or bodily functions or getting hit in the crotch. Overshadowed (especially at the box office) by his lot of Happy Madison productions are a few of these pictures — Funny People, Reign Over Me, Spanglish. Critically the actor's best work, despite his proclivity for projects of the Jack & Jill breed. But after two Grown Ups movies and a That's My Boy, it looks like Sandler is about ready to revisit the craft: The Hollywood Reporter reports that he's in talks for a starring role in The Cobbler, a dramatic indie by director Tom McCarthy.
Those familiar with McCarthy's past works (The Station Agent, The Visitor, and Win Win) know that he's got a knack for pithy human drama, something that will engage Sandler's wry side while also tapping into the emotional core that the actor takes so little advantage of in his commercial pictures. But Sandler does have dramatic chops, as we've seen in his more challenging endeavors. We look forward to getting another whiff of the skills we first saw in Anderson's oddball romance, perhaps with the same dose of "weird": rumors are that the story in The Cobbler allows its titular hero to literally put himself in other people's shoes in order to experience their lives and perspectives. Kooky, sure, but prime for some interesting storytelling. Not a bad gig for Sandler.
More:
The Adam Sandler Stupidity Scale
Sandler and Christopher Columbus Team for 'Hello Ghost'
Adam Sandler and Drew Barrymore Rom-Com No. 3
Follow @Michael Arbeiter
| Follow @Hollywood_com
---
From Our Partners:


40 Most Revealing See-Through Red Carpet Looks (Vh1)


15 Stars Share Secrets of their Sex Lives (Celebuzz)