Andrew Niccol Confirmed To Direct 'The Host'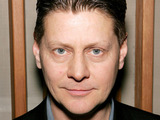 When writer/director Andrew Niccol initially became involved in the adaptation of Stephanie Meyer's The Host, I thought, "wow, this is a great marriage of material and talent." Both in genre and tone, Niccol is the perfect filmmaker to take on Stephanie Meyer's sci-fi story about a subtle takeover of the human race by aliens known as Souls. Anyone who's seen his quiet, enchanting Gattaca will attest to that. Though he had originally just provided the screenplay for the adaptation, he was also rumored to direct, but that prospect seemed lost when Nanny McPhee Returns' Susanna White became attached to helm the film.
All is now well, as Variety reports that Niccol has officially signed on to direct the picture at the Cannes Film Festival. Nick Wechsler and Steve and Paula Mae Schwartz are producing. As reported last week, Saoirse Ronan will play protagonist Melanie Stryder, who is humanity's last hope for survival. There's no word on when production will begin, since Niccol is still putting the finishing touches on his latest sci-fi thriller Now for Fox. The Host originally had been set for a 2012 release, but my guess is that will be pushed back to 2013 to allow proper time for both pre-production and post.
I find it hard to get excited about a film that comes from the mind of the woman responsible for Twilight, but I've got a lot of confidence in Niccol's storytelling aptitude. He should be able to make a mysterious and exciting film from Meyer's story.
Source: Variety