Is Paul Rudd Right for 'Ant-Man?'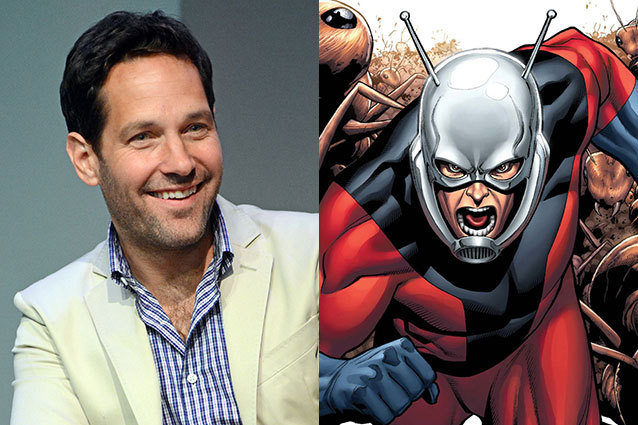 Splash News / Marvel
The size of Marvel's casting pool has just shrunk to one. According to Variety, Paul Rudd is in early negotiations to star in Marvel's developing Ant-Man feature. Both Rudd and actor Joseph Gordon-Levitt were in the running to portray the character in Edgar Wright's upcoming superhero flick, but Rudd has apparently won out. While we're enthused by the idea of Rudd in general, we should still consider the pros and cons of his casting. So what us excited about the casting, and what has us a bit worried?
Paul Rudd and Edgar Wright have the makings of a great comedy duo.
It's almost criminal that Rudd and Wright haven't crossed paths at some point in their respective careers until now. The actor and director both have a finely-tuned motor for comedy. With Wright's work on Simon Pegg's Cornetto trilogy and Rudd's continued residence in the Apatow world, the two have reveled in comedic absurdity, and a certain amount of absurdity is necessary what adapting a film about a man whose powers involve shrinking his body to the size of a peanut.
But does this mean the movie will shy away from the character's dramatic backstory?
Rudd and Wright are both amazingly funny individuals, but there's a danger that their Ant-Man might be too busy trying to make us laugh to remember the weight of the Ant-Man character. The reason Ant-Man is such a controversial and popular figure in the Marvel Universe is because of his complexity as a character. In the comics, Hank Pym has been characterized as a troubled individual with an almost insatiable need to prove himself next to Marvel's more prolific minds. He also had an unforutnate spout of domestic violence that has given the character an sullied reputation among some of the ranks of superheroes in Marvel's printed universe. With Wright and Rudd solidly building their reputation on laughs rather than tears (unless we're talking tears of laughter), there's a danger that the film will neglect to hit the darker notes of Ant-Man's story.
Rudd is older than Joseph Gordon-Levitt, and could more convincingly play a genius.
Hank Pym is a scientist first an foremost, and his identity as one should be a huge part of what makes the character tick. While Rudd's competition for the role, Joseph Gordon-Levitt, could have handed in a fine performance as Ant-Man, he simply doesn't have the years on his belt to convincingly play an accomplished scientist the way that Rudd does.
But Rudd doesn't have experience in the action genre.
The one area wherein JGL had Rudd beat was with his plethora of action film experience. For all the good will the Rudd has gained over the years as a comedic actor, he doesn't have a single film on his resume that even comes close to resembling an action film… aside from the newscaster brawls in the Anchorman flicks, of course. For Rudd to pull of a sucessfull Ant-Man in this movie, and whatever future cinematic adventures Marvel has cooked up for the character, then he needs to be able to play action hero just as well as he can crack jokes with Tony Stark.
So… where do we stand?
All in all, as long as Rudd and company are mindfull of the film's possible pitfalls, they should deliver a fantastic Ant-Man film, and we can't wait to see Rudd put on the tights in the upcoming film.