Benedict Cumberbatch Becomes Julian Assange (Not Draco Malfoy) As Biopic Launches — PIC
Picking up fifteen years after the events of Deathly Hallows Part 2, the latest Harry Potter movie The Fifth Estate sends our magically imbued hero off on a new quest, complete with some snazzy duds, a chic goatee, and the newfound friendship of an old rival, Draco Malfoy. Wait, what? This movie is a Julian Assange biopic? You're telling me that the below image from The Fifth Estate doesn't actually depict Daniel Brühl and Benedict Cumberbatch as grownup versions of the Boy Who Lived and his flaxen-haired nemesis respectively? Well, fine, but if they ever do make a mid-30s Harry Potter movie, they should keep this casting in mind.
In reality, The Fifth Estate chronicles the life and work of the highly ambitious muggle Assange, the writer and political activist who founded WikiLeaks as a venue to grant the international public free access to information classified by various government institutions. The DreamWorks picture, with which star Cumberbatch's name has been associated since the fall, has confirmed the inception of principal photography, as well as the scheduled release date of Nov. 15, 2013.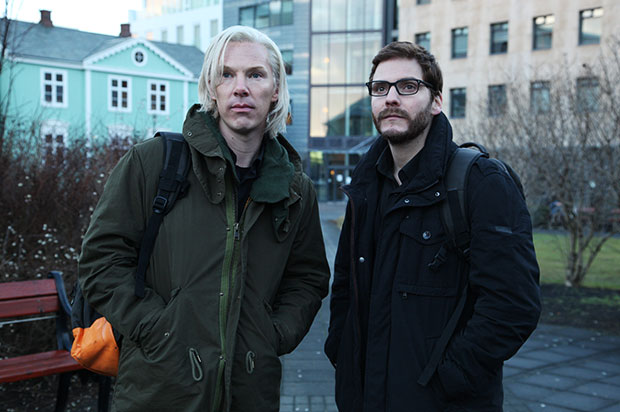 In the new image from the production, Cumberbatch embodies a young Assange, draped in the controversial figure's inimitable platinum tresses and stoic countenance. Beside Cumberbatch is Brühl, portraying Daniel Domscheit-Berg, WikiLeaks spokesman, technology activist, and author of the book Inside WikiLeaks: My Time with Julian Assange at the World's Most Dangerous Website.
The film also features Laura Linney and Anthony Mackie as figures caught in the crosshairs, in one way or another, by the heated plight of Assange and company.
[Photo Credit: DreamWorks]
More:
Second John McAfee Biopic in the Works?! 4 Other Films That Doubled Up
Amanda Seyfried Gives Stunning Performance in Sundance Porn Biopic 'Lovelace'
Occupy Sundance: Eco-Thriller 'The East' & '99%' Doc Stick It to the Man

100 Hottest Women of the Century: PICS