'Fast & Furious 6' Leads Box Office Race Again!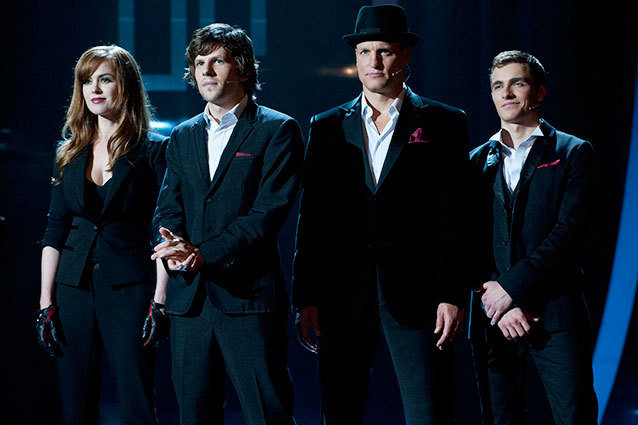 After a record-breaking Memorial Day weekend for the industry, Universal's Fast & Furious 6 makes it two in a row at the top of the box office chart with a second weekend gross of $34.5 million against a 65% drop (Fast Five dropped 62% in its second weekend). With $170.4 million already in the bank after just ten days of release in North America (and $480.6 million globally), the film is an unqualified blockbuster success.
Lionsgate/Summit's magic crime caper film Now You See Me, blew away all box office projections (which put it in the mid to high teen millions range) with a much better than expected $28 million!  A terrific marketing campaign by Summit (much like their success on Warm Bodies back in Feb.), made this one a surprise over-performer!  An original concept and a great release date didn't hurt either. Featuring a terrific ensemble cast including Jesse Eisenberg, Isla Fisher, Woody Harrelson, Morgan Freeman, and Mark Ruffalo, this unique and original drama clearly found an audience with those looking for something different than the usual summer fare.
Will Smith throws his summer movie hat in the box office ring with the existential sc-fi movie After Earth from Sony Pictures. The film co-stars Smith's son Jaden Smith who starred in the 2010 hit The Karate Kid. Director M. Night Shyamalan, who has as many detractors as fans, is nonetheless an exciting filmmaker with a distinctive vision. $27 million placed it in the third spot.
Fourth place is a tie with Fox's animated Epic in its second weekend and Paramount's Star Trek: Into Darkness in its third weekend of release both reporting a Friday through Sunday gross of $16.4 million.
Back for its second weekend, Warner Bros. The Hangover Part III lands in sixth place taking in $15.93 million and $88 million to date in N. America. Of course, Iron Man 3 remains a factor even in its fifth weekend with $8 million in seventh place and is now the fifth highest grossing film worldwide of all time with $1,180 million!
Top Movies for Weekend of May 31 – June 2 (Estimates)
1. Fast & Furious 6 – $34.5M gross – 3,686 theaters – $9,370 avg. per theater – $170.4M YTD – Universal
2. Now You See Me – $28.05M gross – 2,925 theaters – $9,590 avg. per theater – $28.05M YTD – Lionsgate
3. After Earth – 27.0M gross – 3,401 theaters – $7,939 avg. per theater – $27.0M YTD – Sony
4. Epic – $16.4M gross – 3,894 theaters – $4,212 avg. per theater – $65.2M YTD – Fox
5. Star Trek: Into Darkness – $16.4M gross – 3,585 theaters – $4,575 avg. per theater – $181.1M YTD – Paramount
6. The Hangover Part III – $15.9M gross – 3,565 theaters – $4,468 avg. per theater – $88.0M YTD – Warner Bros.
7. Iron Man 3 – $8.0M gross – 2,895 theaters – $2,765 avg. per theater – $384.7M YTD – Disney
Follow Paul Dergarabedian on Twitter @PDergarabedian | Follow Hollywood.com on Twitter @hollywood_com
More:
'Fast & Furious' Faces Two New Box Office Challengers This Weekend
From Our Partners


Stars Pose Naked for 'Allure' (Celebuzz)


Which Game of Thrones Actor Looks Least Like His Character? (Vulture)