'Breaking Dawn – Part 2' Countdown: A Day in the Life of a Twihard — PART 4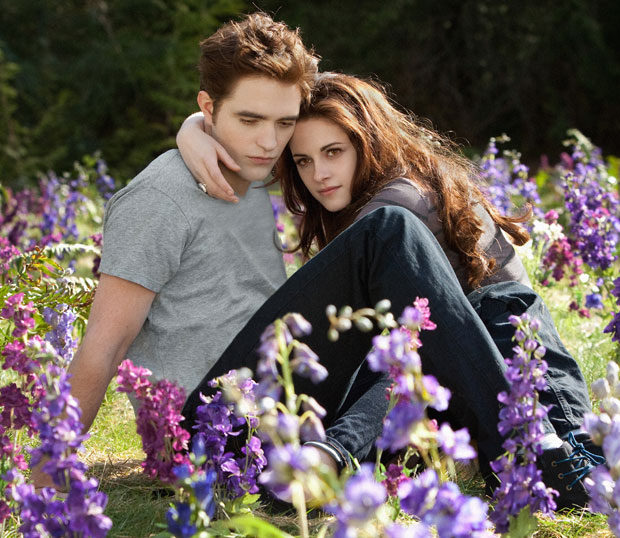 On Nov. 16, Twilight fans around the world said goodbye to their favorite saga as the epic finale, The Twilight Saga: Breaking Dawn – Part 2 finally hit theaters. Twilight fans – self-proclaimed Twihards – are some of the most passionate and driven fans any genre could ever hope to see. In the weeks leading up to the final Twilight movie's release, Hollywood.com decided to get into the mindset of a Twihard by profiling one of Twilight's biggest fans.
Meet Jamie. A 28-year-old NYC resident originally from Florida, Jamie has been Hollywood.com's featured Twihard. We have been getting to know her and learning all about what a day in the life of a Twihard is like for the past two weeks. We began by focusing on the first days of her life as a Twihard, how she has met most of the cast, and how she feels about each of the books and movies. Now let's find out how she felt about the final film. SPOILER ALERT FOR ANYONE WHO HAS YET TO SEE BREAKING DAWN PART 2. THE ENDING AND SHOCKING TWIST WILL BE DISCUSSED IN DETAIL BELOW. 
When Jamie went to see Breaking Dawn Part 2, she wasn't immediately sure she knew how she felt about it. "I think the beginning of the movie was a little slow. I was a little hesitant to decide if I liked it," Jamie says. "It did pick up where it left off from a year ago, but while it's been a year in the real world, the movie had been made all at once. So I was curious to see if it was going to be separated or if it was going to stick together."
Because there has been a sizable gap of time in between each movie, Jamie feels like the film saga has not been seamless. "I definitely felt over the course of the past couple years that there has been a disconnect with each movie and the further you get to the last movie the further away you feel from the first," Jamie says. "With Twilight, if you watch the first one and you watch the last one you definitely feel like they could be two totally different stories that are being told. It's just the familiarity of the main actors that remind you it's the same film." But Jamie's fears were answered immediately, as Breaking Dawn Part 2 picked up the second after Breaking Dawn Part 1 ended. Bella (Kristen Stewart) woke up from her transformation into a vampire, and it was as if no time had passed.
While she felt the beginning of Breaking Dawn Part 2 moved slowly, when the climactic fight scene began all hell broke loose. "What I was really waiting for is the fight scene and I was blown away," Jamie says. "I knew that they said they were going to do something and I forgot what I was waiting for. So the fight scene came and all of a sudden they started fighting and they ripped Carlisle's [Peter Facinelli] head off, which, okay they ripped his head off but then they threw him into the fire and everyone in the theater, I heard people going, 'Holy shit!' I couldn't believe it." This decapitation of one of the central characters in the Twilight saga was especially shocking because it was a massive departure from Stephenie Meyer's book. Since there was no fight scene in the book, fans had no idea what was happening right before their eyes. "I was like, 'Did I miss something in the book? Was there something I haven't read?'" Jamie says. "And then they ripped Jasper's [Jackson Rathbone] head off. And then they killed poor little Seth! And that's when I got really upset." Jamie was floored when the young werewolf was killed. "I was just like, no! He was so innocent, he was so cute. It was just so crazy!" Jamie says. "Everyone in the theater was gasping. Heads were being ripped off. In the back of my mind I was like, 'Where are they going to go from here? This is going off the book. What's going on?'"
This sentiment was echoing all around the theater, and the answer came immediately. It turns out that future-seeing vampire Alice (Ashley Greene) was actually just showing Volturi leader Aro (Michael Sheen) what the outcome would be if the Volturi insisted on fighting. There would be deaths on both sides, including Aro's demise. In an act of self-preservation, Aro led the Volturi away and peace was achieved. "We all realized that the fight didn't really happen. It was not really a dream sequence but it was foreshadowing," Jamie says. "You could hear a sigh of relief in the theater. My friend grabbed herself to catch her breath. I was like, 'Thank god!'" Jamie was happy that the movie got a much-needed dose of violence without changing the story. "You got to see the battle without it really affecting people," Jamie says. "It was a nice way to add in violence to the film. You can't have vampires and werewolves and have them all sit down for Thanksgiving dinner. It just doesn't happen like that. When you have vampires and werewolves there needs to be more casualties so that was a great way of putting it in." And as the violence was occurring, Jamie was shocked. "I was excited about it but my friend was freaking out," Jamie says. "She was like, 'No, Carlisle!' I was just so excited to see fighting that I didn't realize he was actually dying! It was just so crazy."
Besides the shock of the battle scene, Jamie's favorite part of the film was the end where Bella was able to project her supernatural "shield" and let Edward (Robert Pattinson) finally hear her thoughts. In a nice callback to the meadow scene that is so iconic to the franchise, Bella turned the tables on Edward and fans were treated to seeing the love story from a new perspective. "It was the end of the story and I thought they did that very well," Jamie says. "Having Bella show Edward her feelings, I saw people in the theater just crying and you could hear sniffling. It was cute, and it was a nice way to end it. If I could take away one thing I remember from reading Breaking Dawn is at the end when she shows him how she feels, it's just really sweet. It gave her more of the upper hand in the emotional aspect of their relationship. The entire story has revolved around her loving someone and him not believing her and there's this struggle, and I think at the end she could finally show him, 'We're equals.' I liked that."
After the movie ended, Jamie was satisfied with the outcome. "I think they did a great job concluding the story," Jamie says. "It was very visually appealing. There was a lot of action and a lot of special effects. It wasn't an Oscar-winner by any means, but it was fun to watch. I think most fans will be really happy with the way they ended the story."
And just when fans thought the movie had ended, they were treated to another surprise: The end credit sequence was a montage of all the characters who had been in the franchise, going all the way back to the first film. Regardless of whether or not they had appeared in the final chapter, every face was given equal time on screen. "I thought it was cute. I've never really seen that in other movies," Jamie said. "They've had so many people and they've replaced certain people so it was a nice way to pay homage to them. We stayed around to see everyone."
Now that she has seen the conclusion to the franchise, Jamie admits she's not done with it. "I will definitely go see it again," Jamie says. "I was so excited. It's the end of an era." But Jamie feels as if the attitude of fans is different surrounding this installment of Twilight. "It was more of a normal movie going experience this time than it was a final chapter," Jamie says. "I think when you have a final chapter to any franchise I wouldn't say the excitement is gone but people know it's the end. You're not going to find out what happens next. This whole movie wasn't about Edward kissing Bella or Jacob [Taylor Lautner] taking his shirt off, it was closing the story. So it was a calmer ending and therefore it had a calmer audience, fight scene aside."
But there is one scene where Team Jacob fans got their final shirtless shot of Lautner. In a desperate attempt to keep the Cullens around — so the object of his imprinting, Renesmee, would stay — Jacob transformed into his werewolf form in front of Bella's dad Charlie (Billy Burke), beginning with the act of undressing himself down to his birthday suit. "That was hilarious. You have Jacob and Bella's dad having this conversation and it looks like he's coming on to Charlie!" Jamie says. "So that was really funny. It was a nice way of throwing comedy into all the drama that was going around."
With all the epic action, has Breaking Dawn 2 ousted New Moon as Jamie's favorite Twilight film? "No, New Moon will always be my favorite," Jamie says. "I think New Moon is a coming of age story about a girl liking a boy, boy liking girl, boy leaving girl, and I think that every girl can relate to New Moon. I don't think that anyone can relate to things that happen in Breaking Dawn."
And as for the fans mourning the end of the Twilight era, Jamie is quick to assure them not to despair. "When a franchise ends, the fan universe doesn't really die," Jamie says. "But the enthusiasm in their day-to-day obsession is over. There will be something else. As we've seen over the past 10 years there's always another franchise, another best-selling novel that comes out that you can get into so don't worry."
Like the final movie, this is the conclusion of Hollywood.com's A Day in the Life of a Twihard series. Read the first of this four part series here, the second part here, and the third part here.
Follow Sydney on Twitter @SydneyBucksbaum
[Photo Credit: Andrew Cooper/Summit Entertainment]
More:
'Breaking Dawn — Part 2' Countdown: A Day in the Life of a Twihard — PART 1
'Breaking Dawn — Part 2' Countdown: A Day in the Life of a Twihard — PART 2
'Breaking Dawn — Part 2' Countdown: A Day in the Life of a Twihard — PART 3
From Our Partners:

'Twilight' Saga's Most Underrated Characters (PICS) (Moviefone)

Best (and Worst!) Movie Plot Twists Ever
(Moviefone)