Can 2014 Be Another Big Year for Black Cinema?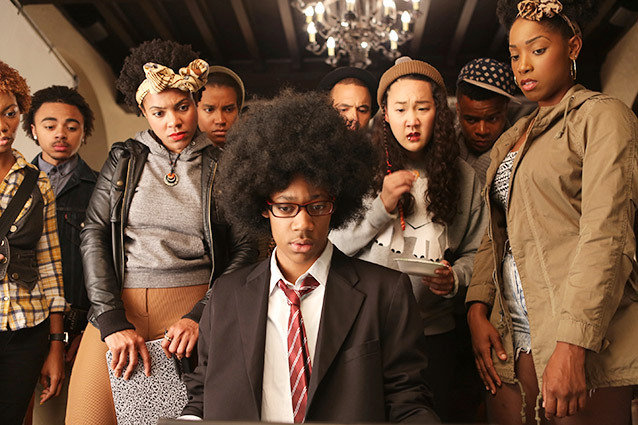 Duly Noted/Homegrown Pictures
Last year was celebrated as one of the biggest years in black cinema, if not the biggest. Such a year (with films like Fruitvale Station, Lee Daniels' The Butler, Mandela: Long Walk To Freedom, and 42) culminated with 12 Years A Slave taking home the Academy Award for Best Picture. And now that 2014 is offically underway, one wonders if we can expect another big year for black films and black directors. Will there be room for more than just one film about the black experience at next year's Oscars?
Well the good news is that there are a number of exciting new projects set for a 2014 release. Fruitvale Station director Ryan Coogler will team up with Michael B. Jordan again for the movie Creed (a quasi-Rocky spinoff), and Spike Lee's highly-anticipated Da Sweet Blood of Jesus has completed filming and is set for a 2014 release. Although Oldboy flopped and his 2012 film Red Hook Summer left much to be desired, many of us still can't resist a good ol' Spike Lee joint. 
One film that's also been getting lots of buzz is Justin Simien's feature debut Dear White People. First off, amazing title. And secondly, the film snagged Sundance Film Festival's Special Jury Prize for Breakthrough Talent this year and their trailers and clips pretty hilarious:
Belles is another film we're excited about. The period piece, set in 18th century England, tells the complex story of mix-raced young woman raised in nobility. Amma Asante will direct the movie (her second feature film), inspired by the true story of Dido Elizabeth Belle.
And although there is no release date yet for the new Lee Daniels movie (featuring the first gay action hero, played by Alex Pettyfer), the follow-up project to last year's The Butler has us plenty excited (along with his upcoming Janis Joplin biopic with Amy Adams). This year Daniels will also team up with his Precious lead Gabourey Sidibe again, along with Terrence Howard and Taraji P. Henson for a new FOX television series Empire. 
Many other directors of color are on the rise this year and it's definitely a good thing. Here's hoping critics and audiences take note and embrace some of these great talents and their upcoming work.
Follow @Hollywood_com Follow @shannonmhouston