Can You Name This 'Dallas Buyers Club' Star In Drag? — PIC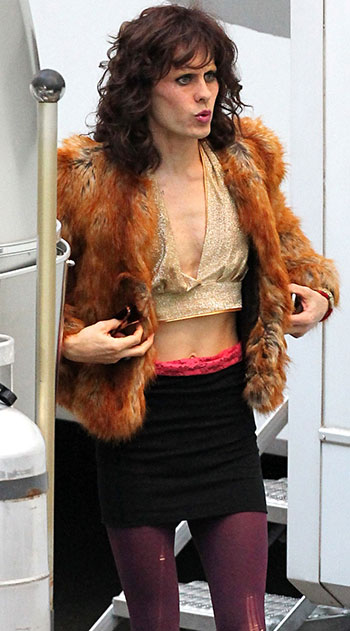 Generally speaking, when a man dresses up like a woman for a movie role, it's usually either a screwball comedy, or a gritty, introspective, occasionally hard-to-watch drama.
In the first category, we have the works of Monty Python and Martin Lawrence, and movies like Some Like It Hot and Mrs. Doubtfire. In the second, the likes of The Crying Game, Hedwig and the Angry Inch, and the developing new feature The Dallas Buyers Club.
Here, we see a new image of (before we reveal, can you guess?) Jared Leto in costume as his character, a drag queen named Rayon who assists star Matthew McConaughey in a drug trafficking endeavor. We've already seen McConaughey transform impressively for Dallas Buyers Club, promising optimism for Jean-Marc Vallée's forthcoming drama.
Leto has a slew of interesting, artful roles to his name: Requiem for a Dream, Prefontaine, American Psycho, and Fight Club, among others. His new gig, a story that involves struggles with drug addiction, sexual pervasiveness, and AIDS, looks to be right in keeping with the actor/musician's consistent tone of downtrodden, authentic human drama.
[Photo Credit: Pacific Coast News]
More:
Tom Hardy Cast in Movie Adaptation of 'Tom Clancy's Splinter Cell' Videogame
Sean Penn to Show Off Liam Neeson-esque Skills in 'Prone Gunman'
'A Late Quartet': Christopher Walken Talks Moving On from Playing 'Bizarre People'
From Our Partners:

'Twilight' Saga's Most Underrated Characters (PICS) (Moviefone)

Best (and Worst!) Movie Plot Twists Ever
(Moviefone)