What Are Celebrities Tweeting About 'Guardians of the Galaxy'?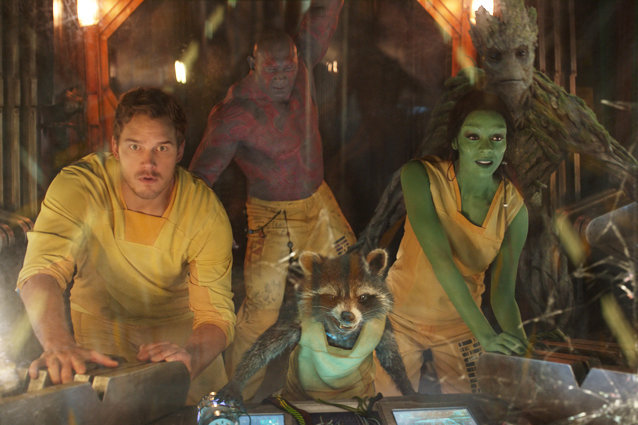 Walt Disney Pictures/Marvel
On the off chance that you've managed to avoid the Internet, television, newspapers or other people for the last few months – in which case, welcome back! That one Iggy Azalea song is still a thing and Legolas and the Biebs are feuding now – allow us to remind you that Guardians of the Galaxy  opens today.  Although, chances are even the most remote parts of the world are still abuzz at the chance to see Andy Dwyer, Neytiri, and the Vin Diesel-tree save the universe. As with every major and minor cultural event, Twitter is full of people sharing their excitement, opinions, criticisms and photos of the snacks they got at the concession stand. And even though celebrities might have cooler jobs and better hair than the rest of us, they too are unable to resist the allure of the latest Marvel movie, or the joy of tweeting about it.
Some of them couldn't contain their excitement (or their cosplay costumes): 
So excited for Guardians of The Galaxy! Gonna see it dressed as my favorite character! #GOTG pic.twitter.com/MTWNCBTVRv

— Paul F. Tompkins (@PFTompkins) August 1, 2014
A few couldn't resist bragging about being into Guardians of the Galaxy before it was cool: 
I have been excited for #GuardiansOfTheGalaxy since @prattprattpratt had a gut and @KarenGillan2 had long hair! CAN'T WAIT @JamesGunn!!!

— Ben Schwartz (@rejectedjokes) July 30, 2014
There were a handful of concise reviews: 
Guardians of the Galaxy is the best one.

— Kumail Nanjiani (@kumailn) August 1, 2014
And discussions about who really stole the show: 
I loved GUARDIANS OF THE GALAXY. It's funny and has heart but the big revelation was how great @DaveBautista is as Drax.

— Gerry Duggan (@GerryDuggan) August 1, 2014
But mostly, people just wanted to share a few general observations about the film: 
Of all the "blockbuster summer movies" so far this summer the only one people seem to be talking about is Guardians of the Galaxy

— Colin Hanks (@ColinHanks) August 1, 2014
Just becuase you're in show business, that doesn't mean you won't fall in love with Chris Pratt: 
The Year of Chris Pratt begins…now. #GuardiansOfTheGalaxy

— Ken Tremendous (@KenTremendous) July 31, 2014
Although he might have some competition in the celebrity friend/nerd cred department: 
Let's talk for a second about @leepace in #GuardiansOfTheGalaxy. Flawless. That is all. Go follow him. Before everyone else does.

— Nathan Fillion (@NathanFillion) July 29, 2014
And there was absolutely nothing that could potentially cause people to overreact and start reports of a feud. Nothing at all. 
Good luck to Mr @JamesGunn this weekend. Truly one of the good guys x

— edgarwright (@edgarwright) August 1, 2014
You can catch Guardians of the Galaxy  in theaters everywhere to judge it for yourself. And then tweet about it, of course.