Channing Tatum's 'Magic Mike' Revealed — POSTER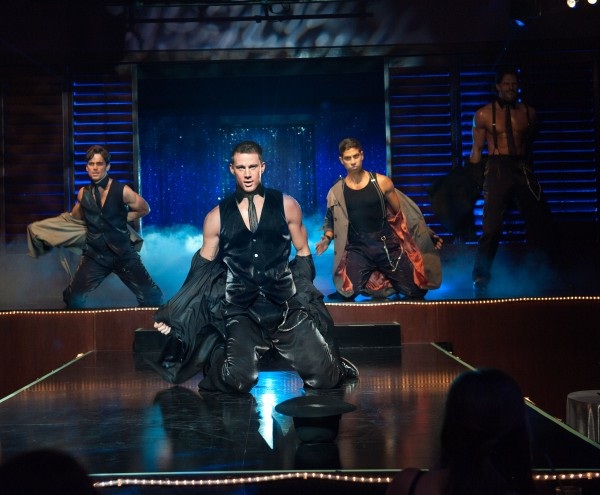 The world has spoken, so Channing Tatum has made a male stripper movie. Magic Mike, which has been getting plenty of buzz 'round The Internets, finally has a poster. It seems as though Tatum & Co. have lost their shirts! Oh no! Here, let me not help you with finding them. The movie, which is rumored to be quite funny, is certainly amping up the camp with this poster. It's like the Village People, but hilarious and yet somehow still sexy? Riddle me that, boys.
Also, the tagline…can we have a moment? You have to have a sense of humor about yourself to make that line really…work it. And if you needed anymore convincing that this movie was totally worth it: Matt Bomer and Alex Pettyfer also take their shirts off. Here's hoping bar owner Dallas (Matthew McConaughy) has a glorious monologue about being a grizzled warrior of the dancing dude business–an exotic dancer with a heart of gold, perhaps?
And since we know that this movie is totally getting greenlit for Magic Mike 2: The Naked Michael, we've decided to cast the new male stripper stereotypes for you (you're welcome, Hollywood). namely:
– The Male Nurse Stripper, played by Jean Dujardin
– The Nerdy Philosophy Student Stripper, played by Joseph Gordon-Levitt
– The Sommelier Stripper, played by Michael Fassbender
– The Study Abroad Romance Stripper, played by Gael García Bernal
– The Homeless Stripper, played by Shia LaBeouf
– The Train Conductor Stripper, played by Gilles Marini
– The Green Party Presidential Nominee Stripper, played by Ryan Gosling (I will use any excuse to put Ryan Gosling in a film.)
We are but visual beings. The line for this film starts right here, behind me.
Magic Mike is in theaters June 29th.
Follow Alicia on Twitter @alicialutes
More:
'Magic Mike': Channing Tatum & Alex Pettyfer Find Themselves, Lose Their Clothes — TRAILER
Channing Tatum Stripping in 'Magic Mike': Sexy or Hilarious? — PICS
Joe Manganiello on 'Magic Mike': 'Big Dudes in Thongs Dry Humping 200 Female Extras a Day'