Cruise, Paramount Commit To Les Grossman Feature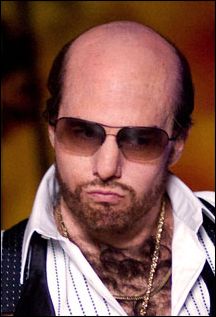 It appears that satirizing himself in Ben Stiller's 2008 action-comedy Tropic Thunder was the best move that Tom Cruise has made in a long time. His balding, obese studio head Les Grossman, who financed the doomed production at the center of Thunder's narrative and made a special appearance at last weekend's MTV Movie Awards, has become so popular among the masses that Paramount Pictures has decided to put the chronically-swearing movie mogul at the center of his own spin-off.
The announcement went something like this: Paramount Pictures and MTV Films announced today that they are set to develop a movie around mega-producer Les Grossman. The announcement comes on the heels of Grossman's groundbreaking and visionary production of the soon-to-be Emmy award-winning 2010 MTV Movie Awards Sunday night. Tom Cruise, along with Ben Stiller and Stuart Cornfeld of Red Hour Films will produce and have secured the life rights to Grossman.
The best part about all this is that Cruise, Stiller and all of the Paramount executives are playing along with the notion that Grossman is in fact a real Hollywood power producer, adding a funky art-imitating life/life-imitating art element to what is sure to be a hilarious film.
Says Stiller: "Les Grossman's life story is an inspiring tale of the classic human struggle to achieve greatness against all odds. He has assured me he plans to quote, 'F**king kill the sh*t out of this movie and make Citizen f**king Kane look like a piece of crap home movie by the time we are done.' I am honored to be working with him."
Looking at the project from the outside-in, it's a great opportunity for Cruise to regain the almost universal likability that propelled him to stardom in the first place. You have to remember that before Thunder, he hadn't made a comedy since Jerry Maguire in 1996 – a long time for a guy who made funny films like Cocktail and Risky Business big hits in the 80s. Though Grossman is essentially a one trick pony (he curses and throws things at his underlings, people laugh at the ridiculousness of it all and he repeats), America loves him and that's exactly what Cruise needs: a stable personality to use in order to ride back into the hearts of audiences everywhere.
Most impressive is that this deal puts him steadily back in business with Paramount, the studio that he called home for years before being ousted after the infamous couch-jumping incident (Viacom topper Sumner Redstone cited poor returns from the star's 2006 vehicle Mission: Impossible 3 as the reason for the firing, but with $400 million in worldwide gross the film was clearly profitable). With Mission Impossible 4 set for a holiday 2011 release and Grossman primed to bring the laughs sometime after (Scott Pilgrim Vs. The World's Michael Bacall has already been hired to pen the script), it's a good bet that Tom Cruise will not only reclaim his throne as Paramount's golden child, but will find his way back into the good graces of moviegoers as well.
Source: Paramount Pictures