5 Pop Star Vehicles You May Have Forgot Existed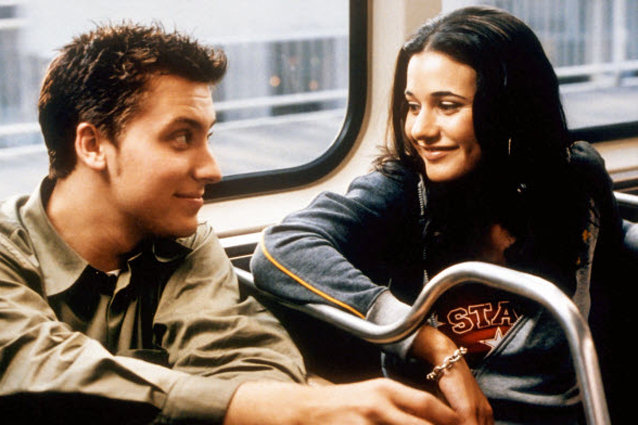 Miramax Films
Usually designed with the sole intention of guiding a particular music artist seamlessly into the film world, the concept of the pop star vehicle can be a tricky thing to pull off. For every 8 Mile, there's a Crossroads. For every Dreamgirls, there's a Burlesque. But even hopeless car-crashes such as Mariah Carey's Glitter are at the very least remembered by the general public. For better or for worse, some crossover efforts are forgotten about the minute they limp out of their final empty cinema screenings. Here's a look at five movies which even the star's most loyal fans would struggle to recollect.
A romantic comedy starring two of the three 'N Sync members no-one really cared about? How could On The Line have possibly failed? Sadly for Lance Bass and Joey Fatone, this 2001 mystery girl chase made Friends With Benefits look like an Oscar-winning classic.
Apart from a brief cameo in Moulin Rouge, Aussie pop princess Kylie Minogue's sporadic film career has been strangely forgettable. She acquitted herself well in this 50s-based tale of two runaway teenagers but only the theme song, "Tears On My Pillow," made any lasting impression.
Taking in a measly two million dollars at the box office, Cyndi Lauper's first and only attempt to translate her quirky charms onto the big screen didn't exactly go as planned with this madcap caper about two psychics hired to find a lost temple.
Shaznay Lewis proved she was the smartest All Saint when she decided not to join the rest of her girlband mates in this tacky Swinging Sixties-set black comedy which barely grossed a hundredth of their rivals' Spiceworld: The Movie UK tally.
Nominated for eleven Razzie Awards, Cool As Ice typified the film industry's short-sightedness when it paid Vanilla Ice $1m to star as a motorcycle-riding rapper, only to watch the result crawl into cinemas almost a year after everybody had lost interest in the two-hit wonder.
More
5 Coolest Band Cameos in Movies
8 Actresses Goths Love
5 Actor Siblings No Longer in the Shadows
---
From Our Partners:


40 Most Revealing See-Through Red Carpet Looks (Vh1)


15 Stars Share Secrets of their Sex Lives (Celebuzz)