'Friday Night Lights' Cast vs. 'Battleship' Aliens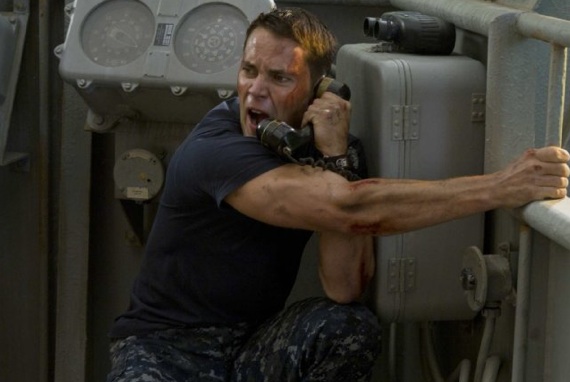 What's that noise you hear far off in the distance? Well, it's either the "boom!" of a box office success, or the sad sound of another sinking Taylor Kitsch ship. If you stepped away from televisions, bus stops, and billboards over the past few weeks, you may have missed the fact that Peter Berg's BANG BANG BANG fest Battleship opened today, and so far the reviews have been less than stellar-Skarsgård.
Kitsch's recent box office failures has us yearning for an earlier, simpler time — a time when we could find the brooding hunk on the small screen, playing ball with his friends in Dillon, Texas. Interestingly enough, Battleship was produced and directed by Friday Night Lights creator Berg, who brought another FNL alum, Jesse Plemons (Also known as that geeky kid who killed a guy) along for the ride.
All of this FNL nostalgia had us thinking — what if Berg had scrapped the rest of his no-name cast (Liam Neeson, Rihanna) and had instead brought along the whole Dillon crew for the ride? How would everyday folk like Coach Eric Taylor and Matt Saracen fare against an alien attack? While the results can't be certain, Hollywood.com took a fairly educated stab at what we call Friday Night Lights vs. Battleship: The Reckoning.
Follow Shaunna on Twitter @HWShaunna
[Photo Credit: Universal Pictures]
More:
'Battleship' the Movie: Which Films and Shows Deserve the Board Game Treatment?
Leonardo DiCaprio, Alexander Skarsgard Race Against Time in 'Battleship'/'Titanic' Mash-Up